Alan Ayckbourn fans pay to go backstage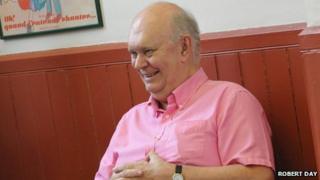 Fans of Sir Alan Ayckbourn are helping to fund his latest play by paying up to £1,500 for access to final rehearsals.
The Stephen Joseph Theatre in Scarborough, where the dramatist's plays open, is offering rare backstage access leading up to the first night of Arrivals and Departures on 1 August.
Devotees will watch the playwright and director in action over five days.
The theatre has had its public funding cut by 18% since 2010. "Frankly we can do with the money," Sir Alan said.
The 74-year-old who will also direct Arrivals and Departures, is widely regarded as one of the UK's greatest living playwrights.
Sir Alan was the theatre's artistic director for 37 years before ill health forced him to stand down in 2008.
He said: "For those who are really interested in the complex and fascinating process of creating of a production, the gradual drawing together of the multiple and varied skills and crafts involved in this, here's an opportunity to see the process in action.
"No two productions are ever quite the same so this is essentially a unique occurrence.
"Enthusiasts get the chance not only to observe but on some occasions an opportunity to inter-react with this which, for them, is surely very special and for us, well, frankly we can do with the money to be able to continue doing it in the first place."
For between £750 - £1,500, an Ayckbourn aficionado will get access to technical and dress rehearsals as well as discussions with Sir Alan and other members of the cast and crew.
Like many other arts organisations, the Scarborough theatre is attempting to find new sources of funding as public subsidies are cut.
It is also an expensive production. Sir Alan has written Arrivals and Departures for 11 actors - a relatively large cast.
'Significant contribution'
The Production Syndicate - the name given to the group of fans who have paid for backstage access - has so far raised more than £30,000.
It is a "significant contribution" to staging the play, according to Stephen Joseph Theatre executive director Stephen Wood.
"They get access to him working with the actors in a way that most people wouldn't get to see," Mr Wood said. "If you're a real theatre buff and a great fan of Ayckbourn, it's a treat. And they'll get to talk to him."
The theatre's subsidies from Arts Council England and the local councils has dropped from £989,000 in 2010/11 to £808,000 in the current financial year.
The scheme is "only trying to get us back to the place we were before the cuts started kicking in", Mr Wood added. "This isn't on top. This is trying to make up the difference."
The fans' fees have been doubled by the Arts Council England under the Catalyst scheme to encourage philanthropy in the arts.
Arrivals and Departures - Sir Alan's 77th play - revolves around a blundering army unit who are lying in wait to capture a terrorist at a London train station.