EastEnders reflects Royal birth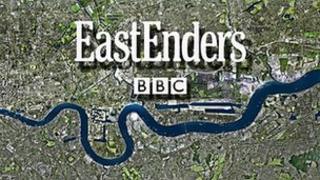 A specially-filmed scene was inserted into Tuesday's edition of EastEnders, marking the birth of the Duke and Duchess of Cambridge's son.
Dot Cotton and Abi Branning were seen discussing the new arrival in the episode, broadcast at 19:30 BST.
The birth was confirmed shortly after 20:30 on Monday. Some 2.6 million viewers were watching rolling coverage on BBC One when the announcement came.
About 7.1 million heard the news during an ad break on ITV's Coronation Street.
Channel 4 left their continuity announcer to make the announcement, while Channel 5 waited for their regularly-scheduled bulletin at 20:55.
Viewing figures for the main 10 o'clock news programmes were an average four million for BBC One and 2.1 million for ITV.
'Historic event'
The BBC said it received 378 complaints from viewers over its coverage, including from those who felt too much time was devoted to the story and others who were disappointed at the change in BBC One's schedule for rolling coverage.
"This was a huge story in the UK and abroad - it was a historic event with high audience interest," a BBC spokeswoman said.
"Millions of people tuned in across the day boosting audiences to the News Channel which saw the fourth highest day of the year.
"It was also the biggest global day and second biggest UK day ever for BBC News online with 19.4m unique browsers globally and 10.8m from the UK."
A spokeswoman for Sky News said it had also received a number of complaints there was too much coverage, although the majority of the viewers were "captivated by the coverage and had a lot of praise".
The new scene for EastEnders was recorded late on Monday night and dropped into a pre-recorded episode.
"This is such a momentous occasion for the Royal family, the country and, of course, the residents of Walford that we felt it should be marked," said a spokeswoman for the soap.
The show often reflects topical and historic events.
Scenes discussing the death of Michael Jackson and the election of US President Barack Obama have been dropped into the programme at the last minute.
Footage of the Royal Wedding was also included in an episode in 2011, just hours after the ceremony had taken place.
Most recently, Andy Murray's win at Wimbledon was scripted into the show.
In the scene, Kim Fox told Jay Brown she wanted to change the name of her B&B from Kim's Palace to Wimbledon Palace as a tribute.