The Heat director Paul Feig: 'Comedy is comedy'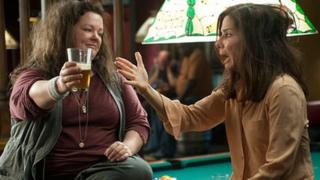 Director Paul Feig, the director behind the hit comedy Bridesmaids returns with a new female-centred film The Heat, starring Sandra Bullock and Melissa McCarthy as mismatched cops.
Bridesmaids, written by its star Kristen Wiig and co-starring women, proved to be one of the surprise hits of 2011 with both sexes, garnering rave reviews and making more than $288m at the box office.
Yet research carried out this year by an American university showed that speaking roles for women in films are at their lowest levels for five years.
Feig, given the sobriquet "Hollywood's accidental feminist" by The Guardian , says his ultimate aim is to level the playing field for men and women, particularly when it comes to the male-dominated field of comedy.
"That's definitely my goal," he explains. "There are so many funny women out there, so many funny women that I want to work with.
"I would just like to break down the wall where it's not even looked at as a male comedy or a female comedy - a comedy is a comedy.
"The biggest thing the studios are afraid of is the reaction of men, going to a theatre and seeing a trailer or a poster and seeing women and thinking, "Oh, it's a chick flick'."
Where Bridesmaids centred on the misfortunes of a group of women in the run-up to a wedding, The Heat focuses on a mismatched FBI agent and Boston detective as they try to bring down a powerful drug boss.
The film is in the mould of cop buddy-movies of the 80s like the Lethal Weapon and 48 Hours films.
"I'm always looking for great projects for women and coming out of Bridesmaids I really wanted to follow the train that we had started with that but we didn't want to go with the same genre," says Feig.
"This just seemed like the perfect escalation of that to get us out of any lady romance mode and just have two funny women show their wares".
He admits to being a fan of the comedy-action genre, adding it was "a genre that is uninhabited by women for the most part".
Prior to his success with Bridesmaids, Feig began his career as an actor and writer. He created the short-lived cult series Freaks and Geeks, whose young cast included James Franco, Seth Rogan and Jason Segel.
The series also introduced the world to the talents of director Judd Apatow - who went on to work with those actors in films including Knocked Up and Pineapple Express.
Apatow's comedies are known for their free-flowing naturalistic dialogue, much of it seemingly improvised. It is a ethos similarly shared by Feig.
"My theory is that you just get everything. Anything the actor wants to try, or ideas you have, or the writers, I'll do it because you never know," he explains.
"Most bad comedy comes from a director, especially if it's a writer-director, who says 'don't deviate from the script'."
'Gender balance'
With half of 2013 gone, the top box office films of the year so far are dominated by family films and animated sequels like Monsters University and Despicable Me 2 or action-filled big budget fare like Iron Man 3, World War Z and Man of Steel.
And according to one US university, of the last year's biggest movies, just 28% of speaking characters were female.
US television seems to have been quicker than cinema to embrace female writers like Wiig and Tina Fey, who both cut their teeth on programmes like Saturday Night Live, and more recently Lena Dunham, the writer and actress behind Girls.
The report - by the University of Southern California Annenberg School - said female directors were outnumbered five to one in 2012 by their male counterparts and only 24 women have directed top-grossing films in the last five years
However, Feig says films like The Heat and the forthcoming The To Do List, written and directed by Maggie Carey and starring Parks and Recreations' Aubrey Plaza, are slowly chipping away at the male-centric Hollywood establishment.
"We're definitely breaking down walls," he says. "The Heat's doing extremely well over here and Bridesmaid did too but that's not the end game.
"There need to be more women directors." he continues. "I work with so many women writers but there need to be more projects that are female heavy.
"It doesn't mean men can't be involved - I think the best things come out of having a real balance because it keeps both genders from going too far in their portrayals of the opposite gender."
Feig's sentiments are admirable but alongside some decent reviews and box-office takings, The Heat has picked up some negative press along the way, not for its content but rather the way it has been marketed.
The film's promotional poster show McCarthy heavily airbrushed to the point where she is barely recognisable.
She is arguably one of the most popular comedy actresses currently working in Hollywood, with another film Identity Thief in the top 10 box office movies of 2013 so far.
But in an interview for The Heat, co-star Sandra Bullock side-stepped the issue, making light of the poster suggesting she would like to have an enhanced bosom through airbrushing.
But doesn't the poster send out completely wrong messages to people about body image? Feig is on uncomfortable ground as he admits he has little to do with the marketing of a film, adding: "That's the sad thing - you really don't have any say."
"She's a beautiful woman," he continues. "People know and love her and that alone should be the only litmus test of any sort of print advertising."
The Heat opens in the UK on 31 July.