JK Rowling crime book Cuckoo's Calling sees sales boost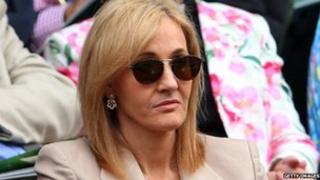 Sales of crime novel The Cuckoo's Calling have rocketed since its author Robert Galbraith was unmasked as JK Rowling, according to The Bookseller.
It said 17,662 hardback copies were sold between 14 and 20 July, up from just 43 copies the previous week, according to Nielsen BookScan data.
The Cuckoo's Calling was the week's bestselling hardback novel, despite some booksellers running out of stock.
The Harry Potter author was identified in a newspaper article last week.
On a website dedicated to her nom de plume, Rowling said 8,500 English language copies had been sold across all formats, including e-books, before her unmasking.
The author added that she had received two offers from television production companies.
"The situation was becoming increasingly complicated, largely because Robert was doing rather better than we had expected him to," she said. "But we all still hoped to keep the secret a little longer.
"Robert's success during his first three months as a published writer (discounting sales made after I was found out) actually compares favourably with JK Rowling's success over the equivalent period of her career."
However, The Bookseller reported the hardback had sold fewer than 500 copies in its three-month period on sale before the Sunday Times' expose.
The recent spike in sales were not enough to send The Cuckoo's Calling to the top spot in the official UK top 50, instead landing it in third place.
The Rowling revelation coincided with the paperback release of The Casual Vacancy - her first official post-Potter work - which sold 19,548 copies in the same week, making the book number two in the sales chart.
Neither title managed to topple John Grisham's The Racketeer from the top of the chart, which shifted 24,222 copies - a 19% drop on the previous week.
Elsewhere on the Robert Galbraith website, Rowling has revealed the reason she chose her pen name.
She said she picked Robert because US senator Robert F Kennedy was her "hero" and she had never used the name in one of her earlier books.
"I can only hope all the real Robert Galbraiths out there will be as forgiving as the real Harry Potters have been," she wrote.
A sequel to The Cuckoo's Calling has been finished and should be published next year, the author added.