Easy Rider star Peter Fonda sues Dolce & Gabbana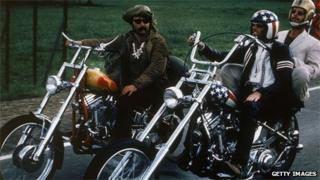 US actor Peter Fonda is suing the Dolce & Gabbana fashion label over a T-shirt featuring his image from the 1969 film Easy Rider.
Fonda has filed legal papers in Los Angeles against the label and retailer Nordstrom over the designs, which use his biker character Wyatt.
The 73-year-old claims the image was used without his permission.
Fonda has asked for $6m (£3.9m) for "injuries to his peace, happiness, goodwill [and] reputation".
Easy Rider, directed by and co-starring the late Dennis Hopper, ushered in a new era of gritty American cinema when it was released at the tail end of the 1960s.
Despite a mixed reception from critics, it was a box office smash and quickly achieved cult status as a representation of American counter-culture.
Fonda, the son of actor Henry Fonda and brother of actress Jane, has also filed for additional punitive damages, legal fees and a share of any profits from the T-shirts, reported to be selling for around $300 (£195) each.
According to The Wrap website, Fonda's legal action, filed in Los Angeles on Friday, said Dolce & Gabbana USA "at no time... sought permission to use his name, likeness and image for commercial purposes".
Nordstrom said it was "aware" of the legal action. Dolce & Gabbana have yet to comment.
It is the latest legal woe for Italian designers Domenico Dolce and Stefano Gabbana, who were sentenced to jail in Italy last week for tax evasion.
A judge said they hid millions of euros from Italian tax authorities.
Fonda's legal action follows pop star Rihanna's claim against British retailer Topshop over a T-shirt bearing her image.
The singer said the fashion chain duped fans and may have damaged her reputation.
Topshop's lawyers have accused Rihanna of attempting to establish "an image reproduction right in the UK," adding that "there is no such right".