John Travolta and Kirstie Alley to reunite on new TV show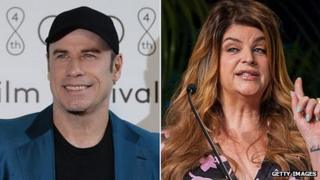 Look Who's Talking stars John Travolta and Kirstie Alley are to reunite on a new TV show in the US.
Travolta will guest star in Alley's new sitcom Kirstie, playing a stagehand working on her character Maddie's Broadway show.
"It's always a treat to be surrounded by people you respect so much both personally and professionally," said the 59-year-old.
His 1989 comedy featured Bruce Willis as the voice of Alley's baby.
Made for a budget of around $7.5 million (£5m), it grossed nearly $300m (£195m) worldwide.
The film spawned two sequels, Look Who's Talking Too and Look Who's Talking Now, which also featured Travolta and Alley.
The new sitcom, which will be screened in the US on the TV Land network, centres around Broadway star Madison Banks, played by Alley.
Viewers will see her world turned upside down when the son she gave up at birth suddenly appears in her life again.
"I'm excited about working with Kirstie again, in addition to such terrific talent on the show," said Travolta.
Alley expressed her delight over the reunion on Twitter, saying she was "SOOO excited to work together again". "We are gonna have a BALL!!" she added.
Following the Look Who's Talking films, Travolta shed his family-friendly image with a career-revitalising performance as a drug-taking killer in Pulp Fiction.
Recently he appeared in such thrillers as Savages and Killing Season, co-starring in the latter alongside Robert De Niro.
Alley's busy television career has seen her enjoy stints in the likes of Cheers, Veronica's Closet and Fat Actress.