The Wolverine slashes his way to top of US box office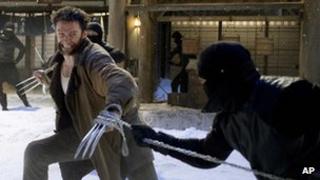 Hugh Jackman's latest incarnation as The Wolverine has topped the US box office with $55m (£35m) in ticket sales, according to studio estimates.
The film earned another $86m (£55m) overseas, which means it has made more than the $120m it cost to make in its opening weekend.
It is the sixth film in the X-Men franchise -which has now made $1.9bn ( £1.2bn) worldwide.
The Wolverine is set in Japan and features an international cast.
Chris Aronson, Fox's head of domestic distribution said "it played equally well from Maine to Maui".
Low-budget horror movie The Conjuring slipped into second place, taking another $22.1m (£14.3m).
Despicable Me 2 was in third place with $16m (£10.3m) - it has now made more than $600m (£389.5m) since its release four weeks ago.
Animated film Turbo and Adam Sandler's Grown Ups 2 made up the rest of top five.
Grown Ups 2 took $11.5 (£7.4m) for its third weekend. It has now made $100m (£64.9m).
Woody Allen's latest film Blue Jasmine had a strong opening, despite only being shown in six cinemas. The film, which stars Cate Blanchett, made $612,767 (£397,832.65) from the six cinemas.
Paul Dergarabedian of box office tracker Hollywood.com said it was "one of the biggest opening per-theatre averages ever for a non-animated film".
He also noted that ticket sales over the weekend were up almost 30% from the same time last year.
Just making it into the top ten is Sundance festival winner Fruitvale Station. The film, which is generating Oscar buzz, made $4.65m (£3m).