Arrested Development movie 'definitely the next step'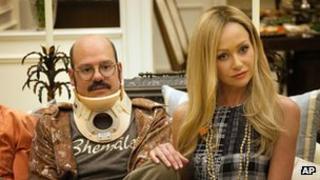 When US sitcom Arrested Development returned this year after a seven year gap, some fans were upset with the change in format - creator Mitch Hurwitz tells the BBC why it was necessary and how a movie is "definitely the next step" for the show.
When the Emmy nominations were announced earlier this month, Arrested Development's creator Mitch Hurwitz didn't think the series was going to get any because it had been made "so outside the system".
The much-loved cult show - about the dysfunctional Bluth family - had returned after a seven year gap through Netflix, the internet streaming service.
"We originally decided to go to Netflix just for creative reasons," Hurwitz explains, "and we didn't think they were going to be eligible (for the Emmys). It was very exciting."
Arrested Development gained a dedicated fan-base during its original three series on Fox between 2003-2006.
The show's return had been highly anticipated, but not all fans were happy with the change in style, where each episode focused on one character rather than the entire Bluth family.
Hurwitz admits it was the availability of the cast - which includes Jason Bateman, Michael Cera and Portia De Rossi - that caused the change in format.
"Necessity is the mother of invention and it really was because I couldn't get all the actors at the same time," he says.
So Hurwitz turned away from mainstream TV networks to a pay TV service because he "really needed a partner that was willing to take risks".
He says he had "very modest ambition" when he started out on the new series. He envisaged "little webisodes" - an anthology series looking at one character at a time - to refresh people's memories before building up to a bigger story.
But as the shows developed, he saw it as "an opportunity to tell a new kind of story."
"To have these individual episodes cross into each other and intersect and make one larger episode. An eight-hour Arrested Development novella," he explains.
History repeating itself
But Hurwitz can understand why some fans may have struggled.
"When I look at what we've done, it seems miles from where we started," he says. "But to an audience that assumed they were getting the old show, I think it was surprising that it was such a different form."
But he is confident fans will "find a way to appreciate this for what it is" and sees it as a case of history repeating itself as the original series took time to find its audience.
"I think in many ways it will follow the same curve of the original episodes. The density of those episodes were what kept people away and now the audience is hankering for that kind of intensity and we're telling a slightly different kind of story."
He continues: "If you watch it again you'll suddenly realise everything had a purpose - everything had a deeper joke going on. I think there is value to the new kind of storytelling - I wouldn't have done it if I didn't."
As for the future of Arrested Development, a movie says Hurwitz "is definitely the next step" as this series "was designed with a movie in mind".
He says they already have planned "a very funny way to wrap up a lot of the elements in the story" and the only issue would be getting the whole cast together.
Hurwitz is keen to work with Netflix again on the movie, which he wants to get a cinema release as well.
"Ideally we'd do both - whether it's a cinema release first and then it goes to Netflix or some kind of simulcast".
A similar experiment was carried out in the UK recently by filmmaker Ben Wheatley, whose low-budget film A Field in England was released across all formats in a single day.
"I think it might be fun for people to have a group experience with the show," says Hurwitz. "Particularly as the fans have now figured out some of the style and figured out that there's a bit of a Rocky Horror Picture Show in this thing and that there are fun things to know ahead of time and to re-watch."