Bolshoi Ballet faces 'difficult challenge' says director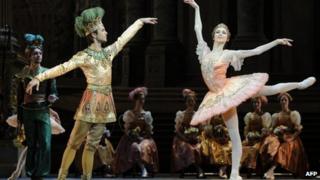 The new head of the Bolshoi Ballet has admitted he faces "difficult challenges", following a series of scandals including an acid attack on the company's artistic director.
Vladimir Urin told the BBC such events "are now in the past".
He was put in place earlier this month after the Russian culture ministry said the Bolshoi needed "renewal".
The Bolshoi is about to embark on a three-week run at London's Royal Opera House.
The occasion marks the 50th anniversary of the company's first visit to Covent Garden.
In recent months the Bolshoi has been mired by allegations of vicious infighting and feuds - as well as the attack on artistic director Sergei Filin, in which a masked man threw acid in his face.
Veteran dancer Nikolai Tsiskaridze, who was in open conflict with the theatre since the attack, was forced out in June.
Leading soloist Svetlana Lunkina told a Russian newspaper she had moved to Canada amid claims of threats to her husband.
"Every theatre sometimes goes through difficult times - it's a normal process of the human life," Mr Urin told BBC arts correspondent Rebecca Jones.
"As human beings, some people might have glorious moments and some tragic events. I'm sure that all these events which happened in the life of the Bolshoi and which amazed all the world - all these things are now in the past."
Mr Urin said, having only been in his post for 10 days, he had not had the opportunity to look into the history of the Bolshoi's recent problems.
"I just need more time to understand the basics of what happened," he said.
'Untruthful things'
However, while he accepted the Bolshoi's reputation had been tarnished by the controversies, Mr Urin said he believed it was unjust.
"Very often a lot of untruthful things were coming out. It doesn't mean some events did not take place, they did take place - but very often it was a lot of rumours around these events and it was a wrong evaluation of what was going on." he said.
"What is vitally important now for the people of the theatre is what they will see on stage. I'm sure that if the creative life of the company is organised in a good way, it will produce new creative interesting works and then everything shall be fine."
Mr Urin's predecessor Anatoly Iksanov was removed from his position with a year still left on his contract.
He had been accused of mismanaging the Bolshoi's $1bn (£860m) renovation - which ran years over schedule and over budget.
Culture Minister Vladimir Medinsky said: "A difficult situation had developed around the theatre and the troupe - everything pointed to the need for renewal."
"As always in the ballet world we do need some new blood - not only dancers but also choreographers and directors as well," agreed Mr Urin.
"We would never say goodbye to the trouble makers if they are brilliant dancers. I'm sure we should be able to find a mutual language to co exist."
Mr Urin's comments came on the same day Mr Filin told the Daily Telegraph he had just undergone his 22nd operation following the attack in January.
"Some of the optimism that we had earlier has not been justified. My right eye sees nothing at all and my left is working at about 10%," he said.
"I can make out light and dark; I can't make out faces. But I want to concentrate on the fact that my doctors are amazing and there is a plan for treatment. There is hope that my left eye especially can improve."