Honor Blackman heads to Casualty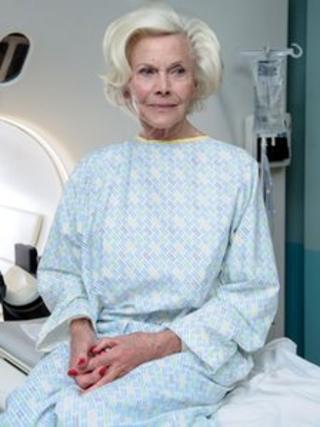 Bond actress Honor Blackman is to appear in the BBC medical drama Casualty, playing a feisty pensioner.
Her character ends up in hospital after being hit by a bicycle and reveals to the Casualty staff that she has a past which includes driving ambulances in African warzones.
Blackman made her name in The Avengers and played Pussy Galore in the Bond film Goldfinger.
She appears in the first episode of the new series, starting on 3 August.
Casualty executive producer Oliver Kent explained she "plays a fantastically witty and charming character on a mission.
"We've had a long history of famous guest appearances but never a Bond girl."
The new series also sees the arrival of two new characters - a trainee doctor called Lily Chao, played by Crystal Yu and a nurse called Rita Freeman, played by Chloe Howman.
Aside from acting duties, Blackman is set to tour a one woman show - on her life and rise to stardom - around the UK in September.