Michael Jackson and Freddie Mercury duets 'to be released'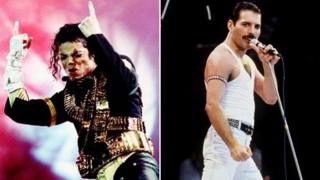 Three songs recorded by Michael Jackson and Freddie Mercury in 1983 are due to be released, according to Queen guitarist Brian May.
May is working on the "unreleased material" with fellow bandmate Roger Taylor and producer William Orbit.
He described the experience as "exciting, challenging, emotionally taxing. But cool".
The duets were recorded at Jackson's home studio in California, according to Hollywood Reporter.
Huge global success
May wrote on his blog: "As for unreleased material with Freddie singing… strangely enough I was working on some tapes this evening - with William Orbit. There are a few items in progress. We will have something for folks to hear in a couple of months' time, hopefully.
May also said in 2011 that he was given permission by the Jackson estate to release the pop star's recordings with Queen and Mercury.
Both stars were larger than life, hugely successful global pop singers with millions of fans and massive record sales. Jackson died in 2009 following an overdose of a powerful anaesthetic and Mercury died from an Aids-related condition in 1991.
Earlier this month, comedian Sacha Baron Cohen pulled out of a Freddie Mercury biopic over "creative differences", according to reports.