Directors Guild awards to include internet shows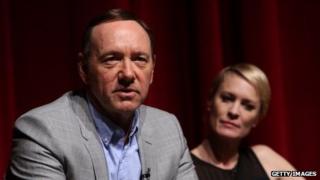 The Directors Guild of America (DGA) is expanding eight of its award categories so it can include programmes created for the internet.
Two of those eight are new award categories - variety/talk/news and sports in both regularly scheduled programming and one-off specials.
They will replace the music variety award, which featured series episodes and specials in the same category.
The DGA awards are on 25 January 2014.
The guild, which holds its prestigious awards each year in the run-up to the Oscars, said it added internet programming "in recognition of the increasing level of original programming being created by our directors and their teams specifically for internet distribution".
House of Cards success
It is the first time additions have been made to the awards since 2005, when the reality award category was created.
The eight categories which can now feature shows created for the internet are: dramatic series; comedy series; movies for television and mini-Series; variety/talk/news/sports - regularly scheduled programming; variety/talk/news/sports - specials; documentary; reality; and children's programming.
The DGA added: "The commercials award category has included commercials specifically made for the Internet since 2007 and will continue to do so."
Last week, the Writers Guild of America also revised its guidelines to allow "series that have been produced for initial exhibition in new media" to be included in its awards.
House of Cards, which stars Kevin Space and Robin Wright, recently became the first online-only series to be nominated in a major category at the Emmy awards.
The political drama produced by streaming service Netflix is in the running for best drama series.
In May, US sitcom Arrested Development was revived after an absence of seven years, with many devoted fans devouring all 15 new episodes after they were made available in one go on Netflix.
The series is the latest attempt by Netflix to tempt viewers away from traditional TV channels.