Mark Ravenhill: Austerity 'could be good for arts'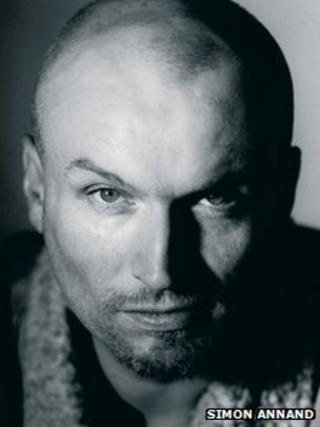 One of Britain's leading playwrights has said funding cuts could be "a good thing" for the arts because artists would be less "safe and well behaved".
Mark Ravenhill said he was against cuts but that the performing arts had been compromised by a "cosy" relationship with funders over the past 15 years.
He said artists "weren't telling the truth" about the world often enough when public funding was more plentiful.
His comments came in the Edinburgh Fringe's opening address.
Ravenhill, who is currently writer in residence at the Royal Shakespeare Company, is one of the most acclaimed and provocative voices in modern British drama.
In the address, he said: "Any party that gets in to power in Westminster at the next election will be committed to the ideology, and plain wrong mathematics, of austerity."
Speaking in Edinburgh on Friday, he predicted that theatres and other art forms would experience "increasingly tough times for at least a decade or more".
"But let's look on this as a good thing," he continued. "Didn't the arts become safe and well behaved during the New Labour years? I think they did.
"I think they weren't telling the truth - the dirty, dangerous, hilarious, upsetting, disruptive, noisy, beautiful truth - as often as they should have done.
"Why? Because most artists are decent, liberal, if only everyone were nicer to each other and let's heal it with a hug sort of folk and so voted New Labour."
When Labour came to power in 1997, there was "for a few years a modest but real terms increase in government funding for the arts", he said.
"And we artists were so grateful for that relatively modest bit of attention and money that we changed substantially what and who we were as artists."
He said the arts world "went astray" in the 1990s and become distracted by a focus on urban renewal, corporate sponsorship and social inclusion, rather than reflecting the real world.
"Artists are needed more now than ever before," he told members of the theatre community at the Fringe.
"You're the ones who have the freedom, if you choose to use it, to think of new possibilities, crazy ideas, bold, idealistic, irrational, counterintuitive, disruptive, naughty, angry words and deeds.
"Because these are the only things that can adequately respond to such a huge meltdown in capitalism and the only way that we might find a way forward in to a different future."
In England, funding to the Arts Council was cut by 30% in 2010, followed by smaller subsequent reductions. The Department For Culture, Media and Sport, which provides core funding for Arts Council England, was given a 7% cut in the most recent government spending review in June.
Creative Scotland, which distributes funds in Scotland, has had small cuts. Many local authorities are also reducing their culture budgets.
Ravenhill also warned that there was a "real possibility" that the arts could lose all of its public funding over the next decade.
"Would that mean all of the performing arts becoming safer and duller?" asked the writer, whose plays include Mother Clap's Molly House and The Cut.
"Maybe the artist free of any relationship with any public funding body is freest of all? If I didn't have to fill in forms, tick boxes, prove how good, nice, worthy me and my project are to a well meaning gatekeeper, maybe I'd make something better - more truthful, more radical?
"Anything and everything is worth thinking about and questioning."
At this year's Edinburgh Fringe, Ravenhill has co-written a cabaret show titled Tell Me The Truth About Love, which reworks and adds to songs written by WH Auden and Benjamin Britten.