Fargo TV show to star Billy Bob Thornton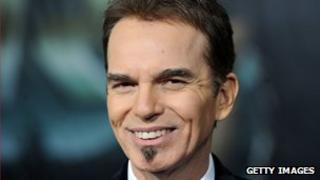 The Coen Brothers are turning their Oscar-winning movie Fargo into a TV series, with long-term collaborator Billy Bob Thornton in the lead role.
The 1996 film starred Frances McDormand as a determined, pregnant police chief on the trail of two bumbling criminals.
She won an Oscar for the role, while Joel and Ethan Coen took home the best original screenplay award.
The 10-part TV series, for US channel FX, will involve brand new characters and a new scenario.
Thornton, 57, will play Lorne Malvo, described as a "a rootless, manipulative man who meets a small town insurance salesman and sets him on a path of destruction."
The actor previously starred in the Coen Brothers' films The Man Who Wasn't There and Intolerable Cruelty. His other screen credits include Bad Santa and Monster's Ball.
FX network boss John Landgraf said that, although there was no cross-over with the original, the Fargo TV show would be "remarkably true to the film".
Filming will take place in Canada, and the drama is expected to be shown in the US next spring.
The Coen Brothers are executive producers, marking their first venture into television after a film career that his produced cult classics such as The Big Lebowski and box office hits like No Country For Old Men.
Fargo, regarded as their mainstream breakthrough, was included in the American Film Institute's 100 Greatest American Movies list, and inducted into the US National Film Registry in 2006.
It opens with a caption saying "this is a true story" but Joel Coen later admitted "it was actually all made up".
"We thought that if we did something where we told the audience up front was a true story, that they'd allow you to do things they wouldn't normally allow you to do, if they thought it was fiction," he told Venice Magazine in 1998.
The Coen brother premiered their latest film Inside Llewyn Davis at the Cannes Film Festival in May.