Mission: Impossible 5 names McQuarrie as director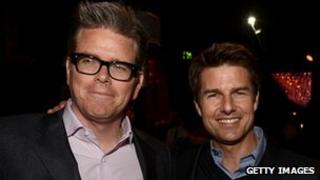 Christopher McQuarrie, Oscar-winning screenwriter of The Usual Suspects, will direct Tom Cruise in the fifth Mission: Impossible movie.
McQuarrie, who previously worked with Cruise on 2012 thriller Jack Reacher, confirmed his appointment by tweeting the words "Mission: Accepted".
In a statement, Cruise, 51, said he was "thrilled to reunite with Chris" for the latest instalment in the series.
The film franchise has earned more than $2 billion at the worldwide box office.
"I began producing the films with the goal that a different director with his own vision would make each one," Cruise continued.
"Chris is an extraordinary filmmaker who will deliver the heart-pounding action and thrills that audiences around the world have come to expect from the Mission: Impossible franchise."
McQuarrie's other credits include co-writing the script for 2008 war film Valkyrie, in which Cruise played a real-life German army officer who plotted to assassinate Hitler.
He also worked on the screenplay for the actor's upcoming sci-fi film Edge of Tomorrow, previously titled All You Need is Kill.
Based on the 1960s TV series, the Mission: Impossible films cast Cruise as Ethan Hunt, a resourceful secret agent with the IMF (Impossible Missions Force).
The previous instalments, released in 1996, 2000, 2006 and 2011, were directed by Brian De Palma, John Woo, JJ Abrams and Brad Bird respectively.
No release date has yet been announced for Mission: Impossible 5, to be produced by Tom Cruise Productions, Paramount Pictures and Abrams' Bad Robot company.