Channel 5's Murder Files rapped by Ofcom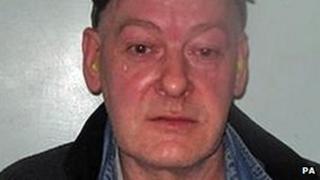 Channel 5 has been found in breach of Ofcom rules, after it broadcast a crime documentary depicting violent scenes before the watershed.
Murder Files: The Sketchbook Killer, which aired in December at 20:00 GMT, focused on John Sweeney who was convicted in 2011 of killing two women.
The programme featured reconstructions of the attacks, as well as photographic evidence of dismembered body parts.
Ofcom said it should not have aired when children might have been watching.
It found the broadcaster in breach of the rule stating children must be "protected by appropriate scheduling from material that is unsuitable for them".
During the documentary, actors were used to depict Sweeney attacking his victims, while commentary was provided by a narrator, journalists and police to describe the attacks.
Commentary included descriptions of one victim "subjected to the most awful torture, including trying to rip her tongue out", while another was "trussed with string, her head and hands sawn off".
Aerial police footage of bags found in London's Regent's Canal - which contained the body parts of one victim - was also shown.
Audience expectations
Channel 5 argued that title of the show made it clear the programme was about a murderer, and was preceded with an announcement indicating it would contain "descriptions and dramatic reconstructions of real life crimes", and therefore did not exceed expectations of viewers.
It said the reconstructions were not detailed or graphic, nor showed any blood, while the commentary was explained in a "factual manner".
The broadcaster added its viewing figures showed 2% of the total audience of the programme were children, and claimed the police footage and commentary given was no worse than could be found in a news bulletin broadcast at that time.
In its ruling, Ofcom said the subject matter did not necessarily exceed the boundaries of acceptability for pre-watershed broadcast.
However, it said the material shown together with the accompanying commentary resulted in the overall impact being increased.
The regulator said the show would have exceeded audience expectations in its timeslot on a public service channel, and the title was not enough to give an idea of the tone of the programme.
It said Channel 5's argument that the police footage shown was comparable to a news bulletin was not relevant because the audience expectation of a news bulletin would be different to that of a crime documentary.