Harrison Ford to replace Bruce Willis in Expendables 3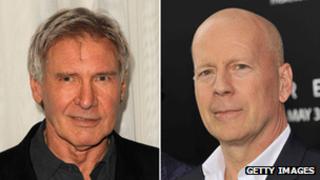 Actor Harrison Ford has joined the cast of the third film in the Expendables action franchise, filling a gap vacated by the departing Bruce Willis.
"Willis Out... Harrison Ford In!!!! Great News!!!!!" tweeted Expendables star Sylvester Stallone. "Been waiting years for this!!!!"
Willis played the role of Church in the first two films, which saw Stallone as the leader of a group of mercenaries.
It is not yet known what role Ford will play in the third instalment.
Stallone apparently went on to criticise Willis on Twitter, calling the actor "greedy and lazy" and saying it was "a sure formula for career failure".
Willis has yet to respond to the slight, which a Stallone spokesman later confirmed had been directed at the Die Hard star.
The Expendables topped the US box office chart when it opened in August 2010, a feat repeated when its sequel was released two years later.
Together the first two instalments in the franchise have earned almost $575m (£375m) worldwide.
The Expendables 3, due for release in August 2014, will also star Jason Statham, Nicolas Cage and Jackie Chan.
Stallone, 67, will next be seen opposite Arnold Schwarzenegger - another member of the Expendables ensemble - in prison drama Escape Plan.
'Perfectly appropriate'
Ford, meanwhile, has confirmed he would consider returning as daredevil archeologist Indiana Jones in what would be the fifth film of the series.
"We've seen the character develop and grow over a period of time," he told the Daily Telegraph.
"It's perfectly appropriate and OK for him to come back again with a great movie around him.
"To me, what was interesting about the character was that he prevailed, that he had courage, that he had wit, that he had intelligence, that he was frightened and that he still managed to survive. That I can do."
Ford first played Jones in Raiders of the Lost Ark in 1981. He went on to reprise the role in Indiana Jones and the Temple of Doom (1984) and Indiana Jones and the Last Crusade (1989).
The actor was last seen as the character in 2008 in a fourth instalment, Indiana Jones and the Kingdom of the Crystal Skull.