Landmark Aids play gets London revival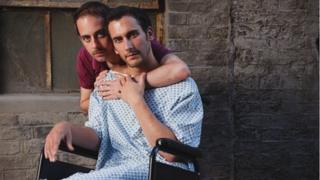 When almost 30 years ago American playwright William Hoffman wrote As Is, it was new territory for drama. No one knew where Aids had come from or what it might do to the gay community in New York. Now the play's being staged in London for the first time since the 1980s.
In a large rehearsal space high above south London, Andrew Keates is directing the young cast of As Is at the Finborough Theatre. The play's structure is unusually free, with scenes overlapping and flowing into one another almost imperceptibly. Keates' job is to make the intimate relationships work on stage while still evoking the gritty reality of New York City in the mid-1980s and the growing anxiety over Aids.
"I've set the action as if it were inside St Vincent's Hospital," says Keates. St Vincent's, now closed, was the downtown hospital which for years bore the brunt of New York's Aids epidemic.
"The play is fast-moving and has more humour than people may expect. It's important the audience realises at once it's not going to see something turgid or heavy. The story's about relationships as much as about a terrible health crisis."
The action moves from gay bars to hospital wards to the apartment of the two central characters Rich and Saul who are in the middle of a break-up.
Actress Anna Tierney, one of two women in the cast, is too young to remember the fear of Aids the play depicts. "Doing As Is has been a massive education for me: I'd never really understood the extent of the epidemic in New York or even how many people died.
"I don't think I'm the only person in her 20s who would say that: lots of people will be shocked at some of what's in the play."
As Is is often reckoned the first play about Aids staged. It opened in March 1985 at the now defunct Circle Rep in Manhattan - a month before Larry Kramer's better-known Aids play The Normal Heart at New York's Public Theater. After two months As Is transferred to Broadway where it ran for eight months.
Ben Hodges, chronicler of gay theatre in America, says in fact a small number of little-known plays about Aids preceded As Is. "They included Stephen Holt's Fever of Unknown Origin and Night Sweat by Robert Chesley.
"They came a year or so before Hoffman or Kramer. But As Is and The Normal Heart were much better received. It's interesting that they were so different: Bill Hoffman's approach was far less political than Kramer's. But today both plays are equally poignant."
"It's tragic that less than a decade after Gay Liberation began to make itself felt in New York the health crisis threatened to squelch the new freedom gay people were enjoying.
"Obviously that freedom wasn't only for actors and writers. But in a play which is slightly pre-Aids such as Torch Song Trilogy (1981) Harvey Fierstein could write honestly about the life he led and the lives he saw around him in New York. Then suddenly it all came crashing down.
"In a way it's amazing anything got written in the early 80s and we should pay tribute to Hoffman and Kramer."
At 78 Larry Kramer can look forward to next year's screen version of The Normal Heart, to star Mark Ruffalo and Julia Roberts. Bill Hoffman, 74, was due in London for the production of As Is but was prevented from travelling by ill health.
Director Andrew Keates says what's special about Hoffman's play is that it was such a quick response.
"Perhaps eventually we'll all conclude the definitive play about Americans and Aids was Angels in America (Tony Kushner's Gay Fantasia on National Themes). But though its action starts in the mid-80s that play emerged in two parts in the 90s.
"The time-lag gave Kushner a valuable perspective on the crisis. As Is was an immediate investigation of humanity under pressure - and that comes through on stage even now."
Saul and Rich, the two lovers at the story's heart, are played by David Poynor and Tom Colley. Colley is sure audiences will sense the fear present in New York 28 years ago.
"In that sense it's very place-specific. Back then people were seriously suggesting quarantining New York City entirely. So this was somebody writing there and then about what concerned him - it's not a writer calmly looking back years later. It was 1985 and no one had any idea what the outcome of the epidemic would be."
Poynor says the actors' main job is to bring the characters to life. "In reality I think my character Saul would drive anyone crazy. In some ways he's a nightmare. But perhaps audiences will be surprised. As Is is set in a time of crisis and that's definitely where a lot of the drama comes from. But ultimately it's a very beautiful love story."
As Is runs at London's Finborough Theatre until 31 August