Tom Hanks film Saving Mr Banks to close London festival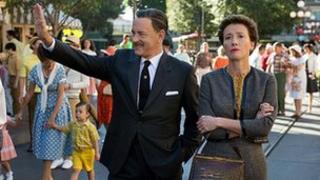 A film about the making of Mary Poppins, starring Tom Hanks as Walt Disney, will close this year's London Film Festival on 20 October.
Saving Mr Banks, which also stars Emma Thompson as author PL Travers, has its European premiere at the event.
Last week, the festival announced that it would open with another Tom Hanks film, maritime drama Captain Phillips.
Saving Mr Banks' producer Alison Owen said it was "absolutely fitting" for her film to screen at the London event.
"London was both the start of the journey for Mary Poppins and for our movie, so we feel like we're beginning in the right place."
Directed by John Lee Hancock, the film depicts the war of wills between Disney and Travers over the best way to bring Poppins to the big screen.
Describing the film as "supercalifragilisticexpialidocious" - the title of the film's most celebrated number - festival director Clare Stewart said it was "positively overflowing with its ebullient love of storytelling and the film-making process".
Hanks is already attracting Oscar buzz for both his portrayal of studio chief Disney and his performance as Richard Phillips, the US sailor taken hostage by Somali pirates in 2009.
Captain Phillips will have its world premiere at the New York Film Festival on 27 September. The venue for Saving Mr Banks' world premiere is yet to be announced.