Alan Ayckbourn's Arrivals and Departures premieres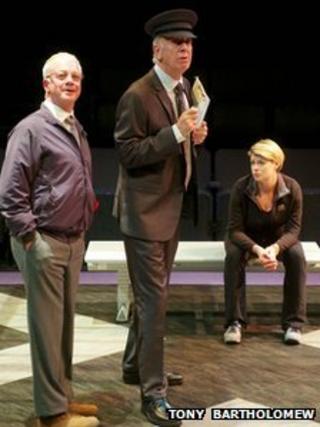 Sir Alan Ayckbourn's 77th play has received its premiere, with critics split over whether it ranks as "his new masterpiece" or "a problem play".
The Times' Libby Purves called Arrivals and Departures a "masterpiece" and The Guardian's Michael Billington praised his "restlessly experimental nature".
The Telegraph's Jane Shilling said it was "a problem play" but had "elements of the familiar Ayckbourn charm".
Arrivals and Departures opened at the Stephen Joseph Theatre in Scarborough.
Sir Alan, one of the UK's greatest living playwrights, presents his new productions at the venue, where he was artistic director for 37 years.
Arrivals and Departures is a dark comedy about a Yorkshire traffic warden, played by Kim Wall, and troubled female army officer, played by Elizabeth Boag.
In The Times, Purves wrote that it was "ambitious, inventive, mischievously funny, but emotionally serious with a shocking, ironic and redemptive final twist".
Billington observed that the 74-year-old writer "pushes comedy as far as possible towards tragedy", declaring: "Even if there are funnier Ayckbourn plays, there are few more affecting."
After the opening night, The Observer's critic Clare Brennan tweeted: "How good is @ayckbourn's new play for @thesjt in Scarborough? In loo, post show, 2 teenage girls repairing teartracks in makeup. THAT good."
However, Shilling's Telegraph review described Sir Alan as "a master craftsman" but said the finish was "not perfect" and his characterisation "falters so badly when it comes to [army officer] Ez that it seems extraordinary a young actress didn't take him aside to explain the improbability of his premise".
In The Stage, Kevin Berry picked out Wall as "blissfully funny". The play was puzzling, Berry decided, "but the denouement and the pathway to it are amply rewarding".
Arrivals and Departures is at the Stephen Joseph Theatre until 5 October before going on a UK tour.