Werner Herzog film warns of dangers of texting and driving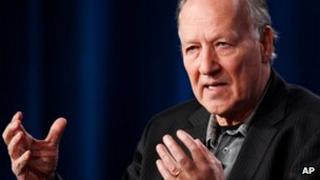 A new documentary by celebrated German director Werner Herzog is warning of the dangers of texting and driving.
The educational half-hour film, From One Second to the Next, was sponsored by US telephone network AT&T.
It features families and victims of collisions caused by people texting while driving relate their stories to the Oscar-nominated director.
According to the documentary, 100,000 accidents in the US every year are caused by drivers using mobile phones.
The documentary is on YouTube and will be shown in more than 40,000 schools across North America.
Herzog told the Canadian Press: "There's a completely new culture out there. I'm not a participant of texting and driving - or texting at all - but I see there's something going on in civilization which is coming with great vehemence at us."
Alongside victims, the documentary also features interviews with the perpetrators who have killed and injured people through careless driving.
Herzog's pervious documentaries include Into the Abyss, in which he interviewed death row inmates; and Grizzly Man - about the bear enthusiast Timothy Treadwell who was killed and eaten, along with his girlfriend, by bears in 2003.
His feature films include Fitzcarraldo and The Bad Lieutenant: Port of Call New Orleans starring Nicolas Cage.