Pixar artwork revealed for Up follow up Inside Out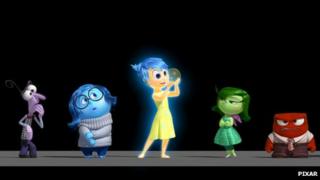 Pixar have revealed the first artwork and casting for the next film from Up director Pete Docter, called Inside Out.
His new animation is set in the mind of 11-year-old Riley, with the characters representing different emotions inside her brain.
Amy Poehler, Mindy Kaling, Bill Hader, Lewis Black and Phyllis Smith will lend their voices to the animation.
The film is due to be released in June 2015.
In the film Riley has just moved with her family to San Francisco. The storyline will look at how memories are formed and how a mixture of five emotions define her life experiences.
Parks and Recreation star Poehler will voice the lead character of Joy, while Kaling will play Disgust and Smith will voice Sadness.
Black will voice Anger and Hader will voice Fear.
The casting was revealed at Disney's D23 Expo fan event in Anaheim, California.
Also at the event they revealed that Diane Keaton and Eugene Levy will lend their voices to the Finding Nemo sequel Finding Dory.
Modern Family's Ty Burrell will also play a beluga whale in the film.
Finding Dory will be released in cinemas in November 2015.