Fifty Shades makes EL James top-earning author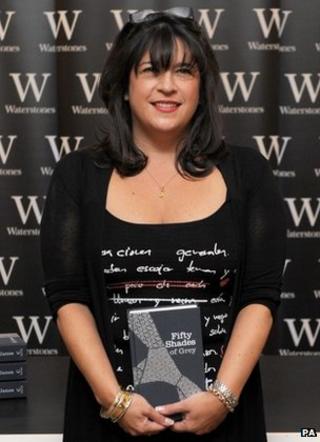 The success of the Fifty Shades trilogy has propelled EL James to the top of Forbes' list of the highest-earning authors.
The British writer earned $95m (£61.5m) last year, the business magazine said.
She knocked crime author James Patterson off the top spot after three years. He took second place with $91m.
James's first novel Fifty Shades Of Grey sold 70 million copies in eight months. At its peak, the entire trilogy earned her more than $1m a week.
She also picked up an estimated $5m for the film rights last year.
Artist and film-maker Sam Taylor-Johnson has been selected to direct the movie, which is due out on 1 August, 2014. Universal Pictures issued a casting call for the lead roles last week.
The Fifty Shades novels have been a publishing phenomenon, and have had particularly strong sales in the e-book market.
The series began as a piece of fan fiction, inspired by Stephanie Meyers' Twilight series, but was re-written before publication as a novel.
Meyers, who took 13th place on the Forbes list in 2012, did not make the top 15 this year.
James's success is almost unprecedented, said Forbes, as most of the names on its annual list are established authors whose earnings derive from sales of their extensive back catalogues.
Mainstays on this year's list include Stephen King and Danielle Steel, both of whom published their first novels, Carrie and Going Home, in 1973.
James Patterson, meanwhile, will release his 115th book later this year.
The 66-year-old, who has been on best-seller lists for 37 years, now enlists a small team of co-writers to help maintain his prolific work rate.
In 2012 alone, he put out 13 books, including the 19th instalment of his Alex Cross detective series, and the final book of his young adult collection Maximum Ride.
Other authors on the list included Hunger Games creator Suzanne Collins at number three, and Fox News presenter Bill O'Reilly at number four.
O'Reilly is an unusual entry on the list, in that his books are non-fiction. At one point, his accounts of major American political assassinations, Killing Lincoln and Killing Kennedy, occupied the number one and number two slot in the New York Times best-seller lists.
His next next book has been announced with the title Killing Jesus.
JK Rowling, who topped the Forbes chart in 2008 with $300m (£178.7m), slipped to 15th place this year, earning $15m from her adult novels, The Casual Vacancy and The Cuckoo's Calling, the latter of which was published secretly under the pen name Robert Galbraith.
Forbes compiled its list using "sales data, published figures and information from industry sources".