Beyonce spends nearly £1,500 at Nando's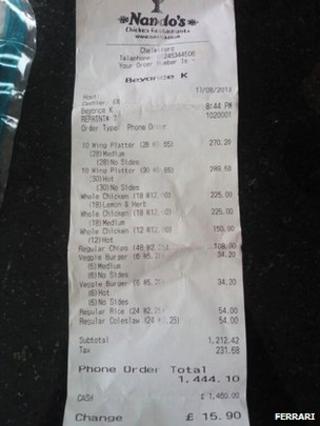 Pop star Beyonce spent almost £1,500 at an Essex branch of chicken chain Nando's following her performance at the V Festival on Saturday.
The headliner's receipt was posted on Twitter and Nando's Chelmsford manager confirmed a member of Beyonce's entourage called in with the order.
The order included 48 whole chickens, 24 tubs of coleslaw, 58 chicken wing platters and 48 portions of chips.
The receipt showed the meal was apparently paid for in cash.
Beyonce was the V Festival's headline act, but was 25 minutes late for her slot.
She left fans waiting in heavy rain and some booed her when she did make it on to the stage.
But she soon turned the crowd around with a set that included several costume changes as she performed tracks like Run the World and Halo.
Her Mrs Carter Show world tour next travels to Philadelphia in the US before heading to South America, with dates in Brazil, Venezuela, Colombia and Puerto Rico.