Profile: Michael Douglas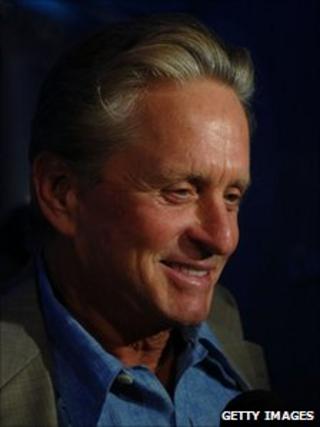 A look at the life of the actor and producer Michael Douglas, whose 13-year marriage to Catherine Zeta Jones has come under intense scrutiny following confirmation they "are taking time apart".
Michael Kirk Douglas was born in New Jersey on 25 September 1944. His parents, Hollywood star Kirk Douglas and Bermudian actress Diana Dill, divorced when he was seven.
Turning down an opportunity to study at Yale, the young Douglas enrolled in the University of California at Santa Barbara, graduating with a BA in drama.
His screen debut came in 1966 with a minor part in Cast A Giant Shadow. The film featured his father in the leading role.
Four years later he picked up a Golden Globe nomination for his role in Hail, Hero!, an otherwise undistinguished Vietnam war film.
In 1972 Douglas began a four-year stint in The Streets Of San Francisco, a TV detective series that cast his enthusiastic young rookie against Karl Malden's cynical old cop.
But his first major success came behind, rather than in front of the camera. His father owned the film rights to Ken Kesey's novel One Flew Over the Cuckoo's Nest and was persuaded to allow his son to produce it.
The resulting film became a cinematic milestone, thanks to a superb performance by Jack Nicholson that won the film one of its five Academy Awards.
In 1979 Douglas produced and starred in The China Syndrome, a film about a potentially catastrophic incident at a nuclear power station.
The film's release coincided with a partial core meltdown at the Three Mile Island nuclear plant in Pennsylvania, guaranteeing media exposure and ticket sales.
A skiing accident in 1980 had an impact on Douglas's career. But Romancing the Stone re-established him as a leading man four years later.
That was followed in 1987 by Wall Street, which saw him win an Oscar for best actor for his role as Gordon Gekko - a character whose ruthless business practices seemed to epitomise the decade's worst excesses.
Fatal Attraction cast him as a married man whose weekend fling ends up with him being hounded by his conquest, played by Glenn Close.
By now, his own marriage to Diandra Luker was beginning to break up under the pressure of his extramarital affairs and heavy drinking.
In 1992, he checked into a clinic to undergo treatment for alcoholism. This prompted one tabloid to suggest he was being treated for sex addiction, something he strongly denied.
For all that, the notion of Douglas as a promiscuous hedonist - stoked in part by his role opposite Sharon Stone in the sexually provocative Basic Instinct - was one he found hard to shake.
In 2000, five years after they separated, Douglas and Luker divorced. Later that year, he married the Welsh actress Catherine Zeta Jones, 25 years his junior.
Their marriage and the birth of their two children, Dylan Michael and Carys, appeared to coincide with a waning of his leading man career.
But away from the cameras, Douglas has been active in politics, supporting the candidacy of Barack Obama and giving donations to leading Democrat politicians.
He was appointed a UN Messenger of Peace in 1998 and has campaigned for nuclear disarmament and other causes.
His personal life suffered a blow in 2010 when his actor son Cameron was jailed for five years for dealing methamphetamine and cocaine.
The 68-year-old was diagnosed with throat cancer the same year, a condition he would later suggest had been caused by oral sex.
Douglas received some of the best reviews of his career earlier this year for his "comeback" performance as Liberace in Behind the Candelabra.
He will next be seen alongside Robert De Niro and Morgan Freeman in Last Vegas, a comedy about four ageing friends who reunite for a bachelor party.