Sir Paul McCartney reveals new single and album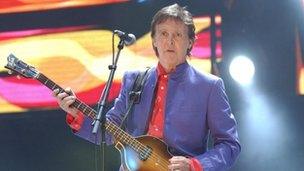 Sir Paul McCartney has announced details of a new solo album and shared a track from the record called New.
He told BBC 6 Music's Matt Everitt: "It's catchy, it's summery, it's a love song. I think people will recognise it as definitely me."
The album - also called New - will be Sir Paul's first solo album since 2007's Memory Almost Full.
Due for release in October, it features 12 songs on which he worked with producers Paul Epworth and Mark Ronson.
"The record is very varied. I worked with four producers and each of them brought something different," said Sir Paul.
DJ and producer Ronson is known for his work with a host of award-winning stars including the late Amy Winehouse, Lady Gaga and Lily Allen.
"Mark's work with Amy [Winehouse] was sensational, so I knew he'd be good. He knows his music, he knows what he likes and the two of us together took the song and tried to put the maximum vibe into it.
"We had a lot of fun. He brought expertise, energy, enthusiasm and the odd laugh or two."
Sir Paul, who won his 17th Grammy Award earlier this year, described the first track, New, as "very positive".
"It's a love song but it's saying don't look at me I haven't got any answers. It says I don't know what's happening, I don't know how it's all happening, but it's good and I love you."
The former Beatle revealed that his collaboration with Epworth, who was responsible for Adele's Skyfall theme song, involved "improvisation".
"The tracks that are Paul's on the album weren't written. I didn't bring them in, which is my normal method," he said.
"[He] works completely differently. We went into the studio the first day I ever met him and he outlined [his] idea and said 'let's just make it up'.
"I just started knocking something out on the piano, he started drumming to it, and I stuck a bit of bass on it and we had the basis of the song worked out."
Other producers on the album include Ethan Johns, who has worked with artists including Ryan Adams and Kings of Leon, and Giles Martin, the son of Sir George Martin, the producer of almost all of The Beatles' records.
The album is due for release in the UK on 14 October and in the US on 15 October.
Related Internet Links
The BBC is not responsible for the content of external sites.