Simon Cowell 'won't rule out X Factor return'
By Frances Cronin
BBC News entertainment reporter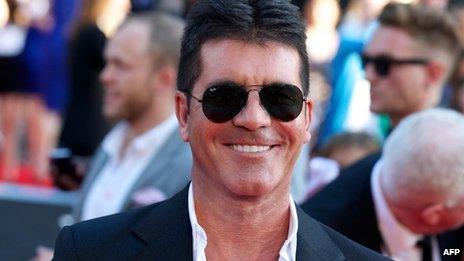 Simon Cowell has hinted he may return to The X Factor as a judge this year.
The singing show has suffered falling ratings since he left two years ago, although he has remained hands-on behind the scenes.
But when asked about the possibility of his return in 2013, he told the BBC: "I wouldn't rule it out."
Speaking at the 10th series launch on Thursday, he added he was confident about the show's future.
"It's here to stay, it feels fresh, it's revived. I feel really good about the future," he said.
The show is hoping for a ratings boost with a number of revamps to the format.
The new changes include a return to auditions in a small room and the judges having to choose their final six in front of an arena audience.
"It's just so easy after 10 years to get lazy and make the same show again," Cowell admitted at the London press launch.
"But the enthusiasm, the changes, the judging panels are all fantastic. Once again I feel like a proud daddy."
Judge Gary Barlow said he "really hopes" the show will have a boost in ratings this year and thought the team had "definitely" done enough to achieve that.
"The twists in the format this year - going back to the rooms, which as a fan of the show myself I always loved the awkwardness of it being in a room, and it's definitely different. But I think you get the best of both worlds because you get the arena auditions as well," he said.
After an initial audition in a room in front of the judges, the singers then have to perform in front of an arena audience.
The Take That star said "the most apparent place" they had "seen the improvement" this year had been with the talent.
"I think they've really been out and found the talent this year. I think people will watch the show because they have a favourite rather than just watch it for entertainment."
A Susan Boyle-style moment has been promised - where the judging panel are amazed by a voice they did not expect.
Sharon Osbourne has returned as a judge after six years away for the 10th anniversary series, with Barlow saying she had "provided the laughs and the drama".
Producer Richard Holloway said the decision to have the judges' final choices made in front of an audience had brought an "electric atmosphere".
The new format will see six finalist chairs on stage which will be filled by successful contestants - however their place is not guaranteed as the judges can replace them if they are outperformed by another singer.
The first episode of the X Factor starts on Saturday 31 August on ITV1.
Related Internet Links
The BBC is not responsible for the content of external sites.