Marillion 'understood where the internet was going early on'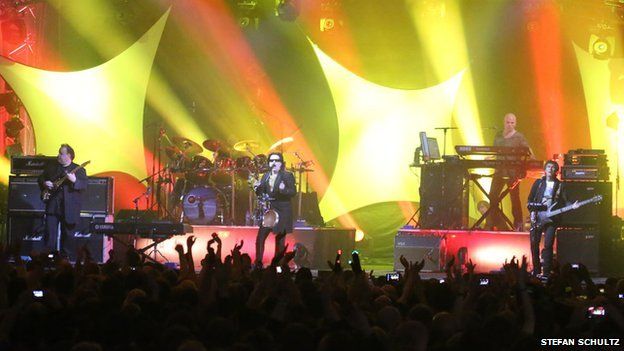 Ahead of the Progressive Music Awards, Marillion frontman Steve Hogarth discusses the band's role as crowd funding pioneers, reactions to his 17-minute song about Gaza and why it is fine to be joked about by Alan Partridge.
"It's great to know there's people out in the world rooting for you," says Hogarth, referring to the rock band's four nominations at the annual awards.
Now in their second year, the awards take place on Tuesday in Kew Gardens, again hosted by BBC Newsnight presenter (and progressive rock fan) Gavin Esler.
Other nominated acts include Steve Hackett, Steven Wilson and The Enid. Jethro Tull's Ian Anderson is to be honoured with the Prog God Award.
Best known for their top ten hits Kayleigh and Lavender in 1985, Marillion are notable for pioneering a crowdfunding internet business model that is mirrored today in websites like Kickstarter.
In 1997, fans clubbed together via the internet and raised $60,000 (£39,000) to help finance a North American tour.
Inspired by that, the band turned the tables in 2001 and asked fans to pre-order an album 12 months before release. Some 12,000 signed up to finance the recording, resulting in the album Anoraknophobia.
For several years, Marillion have organised and performed at fan conventions known as Marillion Weekends. This year these took place in the Netherlands, Canada and the UK.
Marillion's vast discography includes 17 studio albums, the most recent of which is 2012's Sounds That Can't Be Made, which opens with a 17-minute track about life inside the Gaza Strip.
The band's current line-up has remained unchanged since 1989 when Steve Hogarth took over as frontman after the departure of Fish.
The Progressive Music Awards take place at Kew Gardens on Tuesday 3 September. Marillion's Sounds Live Tour begins in Manchester on 8 November.
Related Internet Links
The BBC is not responsible for the content of external sites.