Lady Gaga opens iTunes festival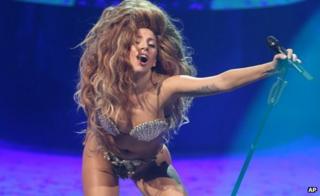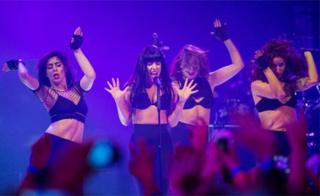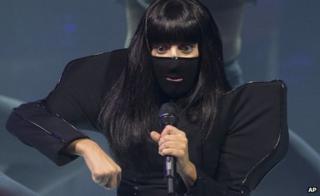 Lady Gaga has opened the iTunes festival in London, playing a set of entirely new material.
The 60-minute show marked The pop star's comeback, after a broken hip caused her to cut short her Born This Way Ball tour earlier this year.
"To say that I've missed you, it's a bit of an understatement," she told her fans on stage at London's Roundhouse.
Featuring pig men in boiler suits and multiple costume changes, the show was streamed live around the world.
In the audience were celebrity fans including Adele, Niall Horan from One Direction and TV personality Arlene Phillips.
For fans, it was the first taster of Gaga's forthcoming album ArtPop, as seven songs - including Manicure, I Wanna Be With You and Swine - were played for the first time.
Many attended the show in a dress code dictated by the 27-year-old on Twitter - including "bedazzled pig snouts" and "trash bags or artclothes".
"Artclothes are clothes you don't mind getting covered in live art!" she said, warning there would be a "paint zone" at the show.
In the event, nobody left the show resembling a Jackson Pollock painting - with the "live art" amounting to nothing more than dancers, in all-white boiler suits and pig helmets, spray-painting canvasses.
Gaga took to the stage nearly half-an-hour late, dressed as a bandit, holding a knife, with a black bandana obscuring the lower half of her face.
Strapped into a metal cage that resembled a medieval torture device, she was hoisted above the audience to perform the opening number, Aura.
"What's up, London?" she demanded as the song ended. "Do you have to scream so loud? I can barely hear myself."
The new music largely stuck to the electro-pop template of her biggest hits, Bad Romance and Just Dance - but one track, Jewels and Drugs, was inspired by the star's love of hip-hop.
"I wanted to set myself free of this box they put you in, in pop music," she explained. "It's like you have to stay inside the box and be a good girl.
"But I don't want to be a good girl. I want to be out of the box."
She was joined on stage for the track by rappers Too $hort and Twista. TI, another featured artist, appeared on video screens because, Gaga said, "they wouldn't let him into the country, poor thing."
Later, the singer, whose real name is Stefani Germanotta, told fans she had survived "some really tough times" and explained she had used "wigs and make-up" to "cover up the pain".
"When I didn't feel strong enough to be me, I created someone else. And it worked.
"So here I am, the human underneath the wigs," she said, removing her headpiece and bobby pins to reveal a tousled brunette bob.
"This is my real hair."
Fans lapped up the theatrics, as Gaga attempted to break down the artifice of pop stardom by changing wigs and costumes in full view of the audience.
But some were disappointed that the hits were being ignored.
"Just play Poker Face," shouted one during a lull in the music.
Accordingly, the singer's current single, Applause, got the most rapturous response of the night, as the singer prowled the stage in a Mad Hatter costume, complete with a Sherlock Holmes' pipe.
The singer's eye-opening performance marked the opening night of the month-long iTunes festival, which will also see concerts by Elton John, Justin Timberlake, Queens Of The Stone Age and Katy Perry.
Competition-winners make up the audience every night, with entry via a free ballot.