US box office scores record summer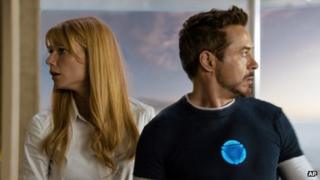 The US box office hit a record $4.7bn (£3bn) over this summer with a 10.2% increase in revenue from last year.
Films such as Iron Man 3, Man Of Steel and Despicable Me 2 helped boost numbers, despite a summer of flops including The Lone Ranger, After Earth and The Wolverine.
An unusually large number of summer releases also saw cinema attendance rise by 6.6% to about 573 million.
Iron Man 3 was the biggest hit of the summer, taking $408.6m (£263m).
Although a portion of the record revenues can be attributed to rising ticket prices - which increased on average by 27 cents (17p) - industry figures have attributed the growth to a packed summer of films.
John Fithian, president of the National Association of Theater Owners, said the bumper takings were a clear sign of industry strength.
However, he suggested studios were jamming too many blockbuster releases into too narrow a summertime window.
"A few of those films suffered because of the congestion," he told Associated Press.
"In January and February of this year, we had very little product and we had very few big budget movies. Maybe one of the takeaways of the summer is: We've got a whole bunch of movies, let's spread a few of them out a bit more and take advantage of the whole calendar."
But Hollywood.com analyst Paul Dergarabedian said the situation was unlikely to change as Hollywood studios traditionally capitalise on the school holidays in the summer months to target the widest audience possible.
Some of the unlikely hits of the summer included lower budget horror films The Purge and The Conjuring, as well as comedies This Is The End and We're The Millers.
While The Lone Ranger - which cost more than $215m (£138m) to make - was the biggest flop taking just $88.4m (£57m) in the US.