Thunderbirds creator's final books to be completed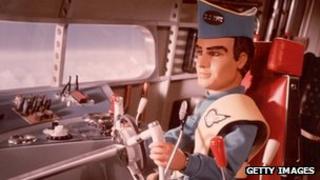 The family of Thunderbirds creator Gerry Anderson have announced a new series of books will be based on a story he had started before his death.
He began writing Gemini Force One (GF1), about a secret organisation, in 2008 but was unable to finish it due to his rapidly worsening Alzheimer's Disease.
Anderson, who also created Stingray and Joe 90, died in 2012 at the age of 83.
Best-selling author MG Harris has been brought in to complete the first book.
Harris is best known for writing the young adult thrillers The Joshua Files.
The Anderson Estate's said the hope is that a book series will be followed by a film or television series, which was Anderson's ultimate goal for GF1.
The project is being funded via the crowd funding platform Kickstarter.
GF1 follows a similar theme to Anderson's most successful TV series, about a secret organisation that is "involved in rescues and averting disasters and terrorist events".
It was announced earlier this year that Thunderbirds is to be remade for ITV, featuring CGI animation and live-action model sets.
The show about the Tracy Brothers and their International Rescue is due to be aired in 2015.
Thunderbirds was a big hit in the 1960s and was most recently turned into a Hollywood film in 2004.