Benedict Cumberbatch: Assange 'won't like' Fifth Estate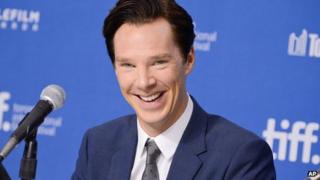 Julian Assange is unlikely to endorse a movie about his WikiLeaks website that has opened the Toronto Film Festival, its star Benedict Cumberbatch has said.
"I'm not a betting man, but I reckon he won't particularly want to support the film," he told reporters.
Speaking on Friday, the Sherlock star would also not be drawn on how he thought the current stand-off over Assange's future would be resolved.
"Who knows? It's very complicated and I'm not a legal expert," he said.
Assange has been at the Ecuadorian embassy in London for more than a year after being granted political asylum.
Swedish authorities want to question him over claims that he raped one woman and sexually molested another while on a visit to Stockholm in August 2010.
"I wouldn't want to furnish what I think should or might happen," Cumberbatch said at a press conference held on the morning after his film's world premiere.
"It's to do with dealings behind closed doors for all of us, and I don't have access to any perspective or information that would shine a light on some certain truth.
"What I'd like to see is the man being able to carry on with his work," he went on, in response to a question posed by the BBC News website.
"Beyond that, due process has to take place, in whatever shape or form that happens."
'Man of the festival'
Charting the early days of the WikiLeaks whistle-blowing website and how it came to make thousands of sensitive classified documents public, The Fifth Estate is one of three Toronto titles in which Cumberbatch appears.
The 37-year-old will also be seen in Steve McQueen's 12 Years a Slave, which has its Toronto premiere later, as well as the ensemble drama August: Osage County.
Playing down suggestions that he was "the man of the festival", the actor said his appearances were "an embarrassment of riches".
"There are lots of other amazing men at this festival, some of whom are seated on this table," he continued. "But I'm flattered at the same time."
One of the men sharing the panel with Cumberbatch on Friday was former Downton Abbey star Dan Stevens.
The 30-year-old plays former Guardian journalist turned BBC Newsnight editor Ian Katz in The Fifth Estate and said the experience had made him more appreciative of the journalistic profession.
"It was a great honour to just be a part of this story," he told reporters. "There are so many cogs in this machine and Ian is a very interesting one.
"It was fascinating to get into the mind of what it was like to be a journalist at that time, the danger and the paranoia."
Asked by BBC News about whether he had any qualms about playing a journalist given his own brushes with the media, Stevens said he was left with firmer convictions than before.
"I think my sympathies for the good journalists increased, and my criticism of the bad ones also increased," he said.
"It's really a question of truth. What is the truth and where do we get it from, and do we trust the people who claim to be giving it to us?"
The Fifth Estate is released in the UK and Ireland on 11 October.