Ebrington barracks in Derry transformed for Turner Prize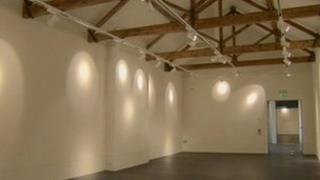 With six weeks to go to one of the world's most prestigious art awards, the venue for this year's Turner Prize in Londonderry has been transformed.
The old barracks, known as Ebrington's Buildings numbers 80 and 81, have been remodelled into state-of-the-art galleries and exhibition spaces.
Now in its 29th year, this is the first time the awards have ever been held outside England
It is expected to attract tens of thousands of visitors.
The regeneration company behind it hopes the transformation of the historic buildings will leave a lasting legacy in the city.
Caoimhin Corrigan of Ilex said: "It will be a creative hub, so it will serve all the creative industries."