Arctic Monkeys tell fans to 'wake up'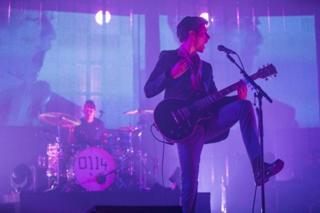 Arctic Monkeys frontman Alex Turner told fans to "wake up" at a gig to launch the band's new album in London.
The singer had just announced the arrival of special guest Bill Ryder-Jones, guitarist from The Coral, to a subdued response from the audience.
He shouted a repeat to his introduction and muttered "wake up" as the band broke into a new song, Fireside.
Earlier, Turner told the audience they were "hard to read" and dedicated the song Snap Out Of It to them.
The comments seemed to be light-hearted ribbing rather than genuine grumbles, in a gig that generally received a fulsome response.
The Sheffield quartet played for 80 minutes at the iTunes Festival show, racing through 20 songs, including I Bet That You Look Good On The Dancefloor and Fluorescent Adolescent.
Drummer Matt Helders tore into the set with such vigour that he trashed two snare drums in the first 20 minutes.
Turner, wearing a tailored suit, was in a more talkative form than at the band's last televised gig, headlining the Glastonbury Festival in June.
After playing Brick By Brick, he joked: "I got so many songs about bricks, here's another one," and launched into Old Yellow Bricks, from the band's second album Favourite Worst Nightmare.
By the end of the night, he was more appreciative of the audience, which had sung along to several tracks from the group's new album, AM, released earlier on Monday.
"Thanks for getting the new record and singing along. It makes me feel all warm inside," he said.
The iTunes festival runs all month at London's Roundhouse, with tickets free to competition winners.
Justin Timberlake, Chic and Katy Perry have still to play sets at the event, which was opened by Lady gaga last week.