Matthew Bourne reveals three dance prize winners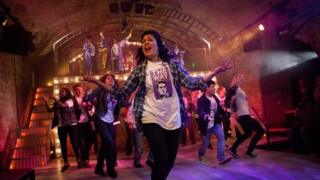 This year's New Adventures Choreographer Award, set up by director and choreographer Matthew Bourne, is being shared by three winners - John Ross, Sally Marie and Caroline Finn.
They were selected from almost 100 applicants and six finalists.
Bourne said they "unanimously impressed" the judges and he is "proud to have been able to support them in the next steps" in their careers.
The three winners will share a prize fund of more than £40,000.
Bourne said the standard of this year's entries was so high that he created three distinct awards.
Ross, who trained as a dancer at the Scottish School for Contemporary Dance and graduated from The Place in London in 2011, was given the showcase award.
He will be mentored and supported over the next 12 months and will give a showcase performance of his new work in 2014.
The commissioning award went to Munich-based British dancer and choreographer Caroline Finn, who trained at New York's prestigious Julliard School.
Finn will create a new work for Leeds-based company, Phoenix Dance Theatre, which will tour the UK in 2015.
Marie, who won the special award, will be given assistance to develop, promote and programme her work over a 12-month period.
Since 2008, Marie has been twice voted best female performer by Dance Europe and twice nominated as best female performer, as well as a spotlight award for new talent by The National Critics' Dance Circle.
Nearly 100 aspiring choreographers applied for the bi-annual award, set up by Bourne's New Adventures company to mark his 50th birthday in 2010.
The charitable arm of Bourne's New Adventures provides the three winners with mentoring assistance as well as support with budgeting, management, contracting and fundraising.
The next New Adventures choreographer award will be presented in 2015.