Alternative Mercury Prize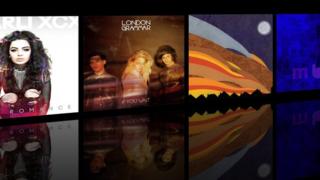 David Bowie, Arctic Monkeys and Disclosure are the front-runners for this year's Barclaycard Mercury Prize, after the shortlist was announced on Wednesday.
The 12 candidates were whittled down from a long list of more than 220 albums. Many popular and critical favourites were discarded along the way.
Asked which of the rejects had caused him the most pain, chair of the judges Simon Frith told the BBC: "I couldn't possibly say. There are too many of them."
But here are 12 records that could, and perhaps should, have ranked alongside this year's finalists. An alternative Mercury shortlist, if you will.
Text by Frances Cronin, Kev Geoghegan, Mark Savage, Sabrina Sweeney and Ian Youngs.
BASTILLE - BAD BLOOD
Bad Blood is the debut album from London four-piece Bastille, who formed in 2010 (the name derives from Bastille Day - an event celebrated on singer Dan Smith's birthday, July 14).
Featuring the catchy, triumphant hit singles Pompeii and Things We Lost In The Fire, it went straight to the top of the UK charts in March.
"We just feel so lucky to be able to do the stuff we're doing. It's gone way beyond our expectations," frontman Smith told the BBC.
"We feel like competition winners who got let in to this place for people in real bands. It's weird."
A BBC review of the album said: "Classical allusion separates Bastille from the crowd, whether Smith is painting a love story against the background of volcanic disaster in the tremendous Pompeii or admonishing a fast liver on the softly funky Icarus."
As well as support slots for Emeli Sande and Muse, the band have had a busy summer with appearances at festivals including Glastonbury, T In The Park and Reading and Leeds and will embark on another headline UK tour later in the year.
CHARLI XCX - TRUE ROMANCE
Pop is a tricky genre for the scratchy beard-brigade who judge the Mercury Prize. They've never quite lived down giving The Spice Girls a nomination in 1997, and have basically avoided the genre since.
But if anyone was going to change that, it would be Charli XCX - aka 19-year-old Charlotte Aitchison - whose goth + bubblegum formula is equal parts Madonna and Siouxsie Sioux.
Like all good pop, True Romance obsesses over sex and heartbreak: "Your t-shirt's on my floor, yeah we're undressing in my house again," she drawls on What I Like.
Four years in the making, the album's release in April passed by with little fanfare - but the Guardian's Rebecca Nicholson praised the "surprisingly oddball" compositions, and Rolling Stone described the cut and paste aesthetic as the "pop-album equivalent of a wicked Tumblr".
Since then, Aitchison has scored a global hit with Icona Pop, co-writing their shouty summer anthem I Love It, and has been drafted in to work on Britney Spears' comeback. Her second album is being prepped for a March release.
Not bad for someone whose first gig was in a peanut factory.
Watch the video for You're The One.
DAUGHTER - IF YOU LEAVE
Daughter's debut album has been described as "staggeringly beautiful", "heart-rending" and "infinitely bleak" by critics.
In fact, Elena Tonra's aching lyrics ("I'm sorry if I smothered you / Sometimes I wish I'd stayed inside my mother") have been known to reduce audiences to tears.
It sounds heavy-going, but the band's ethereal music is beautifully orchestrated and frequently uplifting.
Fans of the Tour De France might recognise the band's most recent single, Youth, which became the theme song for ITV's coverage.
"I like how literal some parts are," Tonra told Outline. "There's the lyric 'If you're still breathing' and there's a shot of a cyclist that looks absolutely knackered. It's great!"
NANCY ELIZABETH - DANCING
"Haunting ballads of a gold standard," said Clash Music of Nancy Elizabeth's third album, Dancing.
The Lancashire singer-songwriter and multi-instrumentalist has been called "one of British folk's most over-looked talents", although it's equally unfair to pigeon-hole her as a folk singer.
Her cascading, intricately-arranged songs transcend genre conventions - swirling strings and breathy harmonies conjuring up everything from Ennio Morricone to PJ Harvey.
Impressively, Dancing was entirely made in Elizabeth's tiny Manchester flat - she was "flat broke" and forced to record on a computer for the first time. But the physical constraints did nothing to constrain her creativity.
"I generally play anything that comes my way," she told Amelia's Magazine two years into recording.
"I've got a piano and a guitar and a little harp and a few other stringed instruments, a celeste, synths, bells, drums. Loads of stuff.
"My house is a nightmare. Can't move for instruments."
Listen to Dancing in its entirety on Bandcamp
KEATON HENSON - BIRTHDAYS
A Mercury nomination may have proved a bit overwhelming for a singer whose crippling stage fright has severely limited the number of gigs and interviews he has done to date.
But it would have been just recognition for one of Britain's most underrated songwriters, even if his stripped-back, excoriatingly personal approach does not suit all tastes.
The son of actor Nicky Henson and ballerina Marguerite Porter, Keaton self-recorded and self-released his astonishing debut Dear... in 2010 before the follow-up Birthdays came out this February.
He has accrued a devoted band of followers and overcame his nerves with his first ever tour, playing tiny shows in a string of museums, this spring.
Loud and Quiet praised Birthdays as "a thing of quiet beauty and subtle power", while the BBC review compared the "almost shocking sound of one man and his gently stoked electric guitar" to Jeff Buckley.
Watch the video for Sweetheart, What Have You Done To Us?
KING KRULE - SIX FEET BENEATH THE MOON
Perhaps the only rock singer to be named after a video game character (dastardly banana thief King K. Rool from Donkey Kong Country), King Krule is the alter ego of Archy Marshall.
A 19-year-old graduate of the Brit School, Marshall has the baby face of Ron Weasley and a snarling estuary accent that recalls Joe Strummer at his most vitriolic.
It's not to everyone's taste - The Quietus called him "unlistenably irritating" - but his downbeat portraits of contemporary London have seen him hailed as a punk poet.
Six Feet Beneath The Moon finds Marshall hassled by the police and being ripped off in Tescos and he isn't happy about it at all.
"When your dead end job / Has been eating away your life / You feel little inside / But trouble and strife," he growls on Easy Easy.
It might be bleak - but MTV described his live show as "mind-bogglingly, face-meltingly pleasurable".
"The kid is really important."
LONDON GRAMMAR - IF YOU WAIT
Making the eligibility period at the last possible moment, London Grammar's debut album was released on 9 September, two days before the Mercury shortlist was announced (judges will have received advance copies).
Enchanting and intimate, the record showcases Hannah Reid's molten vocals, framing her delicately-delivered harmonies with muted guitars and chiming piano motifs.
Reid's lyrics catalogue heartbreak and the turmoil of youth - but ultimately strike an optimistic tone: "Don't you know that it's only fear / I wouldn't worry, you have all your life / I've heard it takes some time to get it right", she sings on Wasting My Young Years.
If You Wait seemed to arrive out of the blue, but the Nottingham-formed trio spent 18 months perfecting their sound.
"We were signed quite early, and given time to develop organically," Reid told Gigwise. "It's actually how things would have been done 10 years ago."
Nonetheless, there was a weight of expectation on the band from the day they posted their first single, Hey Now, on the internet last December.
But the record seems unaffected by the buzz. "As crisp and fresh as a light autumn breeze," wrote Ramon Romano on Listen Before You Buy. "A stimulating, glorious triumph."
STEVE MASON - MONKEY MINDS IN THE DEVIL'S TIME
Politically-charged and full of venom, Fight The Fury - Steve Mason's opening salvo from his third solo album - advocated coming at the powers-that-be with "a fist, a boot and a baseball bat".
But the album is more than a diatribe. Mason describes it as a "provocation record" - a call to action, rather than a stubborn protest offering no solutions.
"It's human politics," he told Q Magazine. "I'm of the opinion that, as a race, we need to take a step back, reassess where we are and where we're going."
A nine-song album, linked by 11 musical doodles, it veers unevenly between country rock, hip-hop, reggae, gospel and even a recording of Formula 1 race commentary - but manages to make sense when listened to as a whole.
Dig deeper, and the album is also deeply personal - touching on Mason's history of depression and ultimate optimism for humanity.
The NME awarded it 7/10, saying: "It's not only the boldness of Mason's subject matter that makes this a brilliantly disquieting record, but also his ability to make it consistently warm and wholesome."
Watch the video for Fight Them Back
MELT YOURSELF DOWN - MELT YOURSELF DOWN
Melt Yourself Down is described as the sound of Cairo '57, Cologne '72, New York '78, London 2013 - which presumably means something to someone, somewhere.
A jazz-punk supergroup, they are comprised of Pete Wareham and Ruth Goller from Acoustic Ladyland; Shabaka Hutchings and Tom Skinner from Sons of Kemet; Satin Singh from Fela! and Kushal Gaya from Zun Zun Egui on vocals.
The sextet say they play "detonated jazz" - a scuzzy, improvised soundclash that owes as much to African funk as it does to Herbie Hancock.
"The best British debut in years," declared music blog Foamhands, adding that the band straddled "continents and generations" with "globe-trotting giddiness".
Music OMH called the eight-track album compelling stuff, saying "we need more musicians who are prepared to go nuts in this delightfully joyous way".
Watch the video for Fix My Life
MY BLOODY VALENTINE - MBV
David Bowie was not the only one to make a surprise and critically lauded comeback this year.
Influential Irish guitar welders My Bloody Valentine self-released their third album mbv in February, their first LP for 22 years.
According to Anydecentmusic.com, which keeps track of album reviews, it got the best reviews of any British or Irish album of the past 12 months.
The Guardian's five-star review said leader Kevin Sheilds' songs were "more melodically complex, intriguing and often pleasing than anything he has written before".
A similarly star-studded Independent on Sunday review drooled over the "deliciously hypnagogic miasma of softly whispered vocals, pummelling looped grooves and Shields' trademark 'glide guitar'".
Mbv may still have proved too monolithic for the Mercury panel, but we will never know. Sheilds has complained that the prize's entry criteria stipulate that an album must have had a full physical and digital release, whereas mbv is only available from the band's website.
"It's interesting to learn that to be as independent as we are is… virtually illegal," Shields told The Guardian. "It's not a real record. Our album's not a real album because it's independent.
"The corporate-ness has got to such a point where we've essentially been told that we don't exist. So, technically, that album doesn't exist. OK? It's not allowed to exist according to the Mercury Prize."
Listen to mbv in full on YouTube
RIZZLE KICKS - ROARING 20s
"The Thing About Rizzle Kicks is that they make it all look very easy," said influential chart barometer Popjustice back in 2011.
And they do: Jordan "Rizzle" Stephens and Harley "Sylvester" Alexander-Sule have a breezy, witty approach to hip-hop that has earned them two top five albums.
Roaring 20s is a reference both to the bandmates turning 21 and the jazz-tinged be-bop samples that pepper their music.
Over 14 tracks, they address the pitfalls and pratfalls of growing up in modern Britain - from talent shows to the prickly business of telling a friend you don't like their girlfriend.
The duo deals with tougher issues, too ("some of the things that happened in Neasden weren't pleasing, the stabbings and beatings") but on the whole, the album is a sugar-coated positivity pill.
Perhaps that is what cost them a Mercury nomination, despite across-the-board praise for their new album.
"When you make music that's optimistic and happy, it's automatically more difficult to be seen as credible," notes Stephens.
Watch the video for Lost Generation
THESE NEW PURITANS - FIELD OF REEDS
Art rockers These New Puritans' third album has been described by critics as "beautifully muted, yet murkily enticing", "deeply moving" and "astounding". So their omission from the Mercury shortlist took many by surprise.
"Not 'industry' enough," was the band's terse response on Twitter.
Formed in Southend-on-Sea, the trio were inspired by the likes of Wu-Tang Clan and cartoon characters The Smurfs. (Rolling Stone magazine made singer Jack Barnett repeat the latter claim twice "to confirm he wasn't saying 'The Smiths.'")
The neo-classical Field of Reeds was recorded over 12 months and features contributions from jazz singer Elisa Rodrigues and more than 38 session musicians, playing a wide range of instruments from flugelhorns to tubas and clarinets to electric pianos.
It's also their first without former member, keyboardist Sophie Sleigh-Johnson, who left the band in 2012.
The album is markedly different from the band's dance-rock predecessors - 2008's Beat Pyramid and 2010's Hidden - a conscious decision, according to vocalist Jack Burnett.
"Our albums have been very gradual processes, alienating every potential audience that I have. I think our audience expects us to change," he told Pitchfork earlier this year.
"So we will change and we'll do what we think is best, completely regardless of how it might affect us financially and how it might affect our audience.
"Otherwise, we'll just crash and burn, and find another job."
Watch the video for Fragment Two
The Mercury Prize will be awarded on 30 October. Read about the 12 official nominees here.