Insidious: Chapter 2 horror tops US box office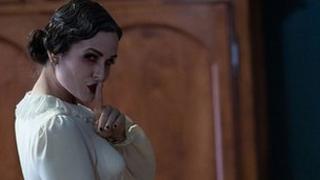 Horror sequel Insidious: Chapter 2 has topped the US box office with takings of $41m (£26m).
The weekend's haul is triple that of its predecessor, released in 2010.
Chapter 2 arrived in cinemas on Friday the 13th, which analyst Paul Dergarabedian of Hollywood.com called "a perfect release date".
Director James Wan had "cracked the code" on horror movies," he added. Crime caper The Family opened in second place with Riddick falling to third.
The Insidious franchise stars Patrick Wilson as a husband and father to a young son to whom ghosts and demons are attracted.
FilmDistrict's president of distribution, Jim Orr, said Chapter 2's ticket sales nearly doubled studio expectations, calling the creative team "just ridiculously talented".
The Conjuring - another haunted-house thriller starring Patrick Wilson and helmed by Australian director Wan - also topped the US box office in July.
Last week's number one film, which sees action star Vin Diesel reprise his role at the titular character in the action sci-fi, earned $7m (£4.3m).
Luc Besson's The Family stars Robert De Niro as a mafia snitch who, along with his wife played by Michelle Pfeiffer and their children, enter a witness protection programme. It took $14.5m (£9m) over the weekend.
Lee Daniels' The Butler took fourth place, with Jennifer Aniston's road-trip comedy We're the Millers rounding out the top five.