National TV awards to reward detective of the year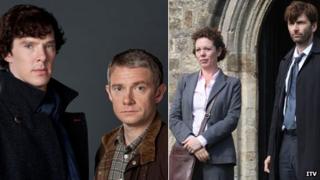 The National Television Awards (NTA) has launched a new category for TV detective of the year.
The longlist of 26 contenders include Benedict Cumberbatch's Sherlock, David Suchet as Poirot and David Tennant and Olivia Colman as Broadchurch's DI Hardy and DS Miller.
TV viewers will be asked to vote for their favourites online or by phone, with lines closing on 11 October.
The NTAs will be hosted by Dermot O'Leary at the O2 Arena on 22 January.
Murder mystery Broadchurch proved to be a massive ratings hit for ITV and is being remade in the US, where the original is being shown by BBC America.
Although series two of BBC One's Sherlock was shown in January 2012, it is eligible for the list as it was repeated during the eligibility period.
A third series has been filmed but a transmission date has yet to be announced.
Longlists for other categories at the 19th NTAs have also been announced.
In the talent show category, former winners The X Factor and Strictly Come Dancing compete with Britain's Got Talent and The Voice.
New shows making their debut in the comedy category include David Walliams's Big School and Blandings. They will go up against last year's winner, the hugely popular Mrs Brown's Boys.
Presenters Ant and Dec are once again up for the entertainment presenter prize, having won the award for the past 12 consecutive years.