James Gandolfini and Cory Monteith to get Emmy tribute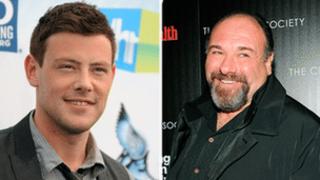 James Gandolfini and Cory Monteith are to receive posthumous tributes at the Primetime Emmy awards.
Producers have selected five people to be recognised separately from the usual In Memoriam segment.
Producer Gary David Goldberg, Jean Stapleton and Jonathan Winters will also be honoured.
Monteith died from a heroin and alcohol overdose in July, while Gandolfini died in June following a heart attack.
Close friends and colleagues will deliver the tributes.
Edie Falco will pay tribute to her on-screen Sopranos husband Gandolfini, while Glee star Jane Lynch will pay tribute to Monteith.
'Unique new format'
Actor Michael J Fox has been asked to talk about Family Ties producer Goldberg. The show helped launch Fox's career and they also worked together on the 1990s political sitcom Spin City.
Director Rob Reiner will present the Jean Stapleton tribute. He played her son-in-law in the 1970s hit sitcom All in the Family. She died in June aged 90.
Comic Robin Williams will remember his friend and mentor Jonathan Winters, who played his adult baby Mearth on Mork and Mindy.
Ken Ehrlich, Emmys executive producer, said he hoped that "having their close friends share personal remembrances is something that will be very meaningful for television audiences across the country and across the generations".
He added that the In Memoriam segment will also be "presented in a unique new format that will give added importance".
The ceremony will be held in Los Angeles on 22 September, hosted by Neil Patrick Harris.