The tragedy and comedy of life in alcoholics' hostel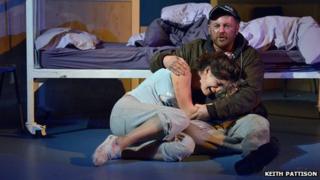 Playwright Paddy Campbell has used his experiences of working in a hostel for homeless alcoholics as the basis for his savagely funny first play.
At the start of Campbell's play Wet House - the term used for hostels where alcoholics are allowed to drink - naive new boy Andy is greeted for his first shift by his jaded colleague Mike.
"God help you," is Mike's introduction.
Another fellow warden then runs through what the residents have been doing during her shift.
One has been standing naked for hours in an empty bath, another has been arrested, one is missing ("hopefully dead") and another, who is pregnant, is begging. One has called an ambulance to examine his piles, two are "gouging" on heroin and one "drank till he was making tractor noises".
That is just some of them - and the summary does not do justice to Campbell's darkly comic script. He paints the residents' predicaments as desperate and dangerous and sad and scary.
The staff members, in their hardened, morbid humour, also make them shockingly funny.
"I knew I had to set a play in a wet house as my first full play," says Campbell, who worked in a wet house on Tyneside for three years. "It was too much of a crazy experience to not write about."
Does that handover scene - the roll call of royally messed-up residents - exaggerate reality for dramatic effect?
"To be honest that handover wouldn't be much of an exaggeration at all," Campbell replies. "Possibly almost toned down.
"We'd pretty much have police there most days. It was a hostel for 25 residents and you had a mixture of alcoholics, heroin addicts, people with mental health problems and sex offenders, with two staff to organise it.
"So the list of incidents and things that would happen every day… No, that handover wouldn't be too much of an exaggeration at all."
Humour also comes from the juxtaposition of Andy, an idealist in his first job after graduating with an art history degree, and the battle-hardened, cynical and at times savage Mike. They represent two extremes of the care profession.
"When I was writing it, I was worried that the bad practice the staff were displaying in the play was going a bit far," Campbell says.
"And then a few years ago there was that Panorama documentary about abuses in those homes and I think my play is tame in regards to that.
"So I think some of the things the play talks about, and how bad practice can arise, I certainly don't think anything in the play is implausible."
In the play, at Newcastle's Live Theatre, Mike has long since decided that the residents are beyond help.
But one message that emerges is that the difference between the wardens and the residents is not as clear-cut as it initially seems.
"You'd think working in a place like that would put you off drink, but the opposite seemed to be true in a lot of cases," Campbell explains.
"There's a fine line between being one of the residents and being one of the people with the keys. There were a few people who, dealing with the pressures of that job, were hitting the drink."
Like Andy, Campbell got a job in a wet house straight after gaining an art degree.
After leaving his hostel job in 2007, Campbell took Live Theatre's playwriting course "on a whim" while unemployed, despite having no particular interest in theatre.
He is the latest writer to emerge from Live Theatre. Others to have risen through its ranks include Lee Hall, who wrote Billy Elliott and The Pitmen Painters, and Peter Straughan, who earned an Oscar nomination for the screenplay for Tinker Tailor Soldier Spy.
Hall has said Campbell's play "possesses a subject matter that is important and prescient, his characters smack of authenticity and there's a searing emotional depth to the piece that is both arresting and heartbreaking".
"He's also seriously funny," he added. "It marks a highly impressive debut."
With Wet House, Campbell says he does not simply want to tell a story. He is also trying to open the public's eyes about what goes on inside shelters housing people who are teetering on the edge of society.
"I don't expect a play to provide any answers, more to raise questions and have people discuss these problems," he says.
"People who work in places like that, it's often poorly paid and highly stressful and quite often without a great deal of support.
"So yeah, that was something I wanted to raise, particularly as the government's cutting support for services like these and services for the residents. I think it's important to ask what is going to happen to people in this situation.
"And as recessions and things like that happen, we're going to find more people living under the poverty line, which leads to more people struggling with homelessness. They're all questions I wanted to raise in the play."