Sir David Frost BBC radio show to go ahead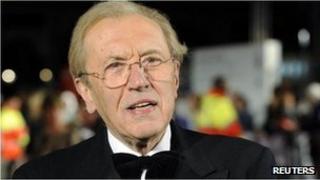 The BBC is to go ahead with a series of radio programmes which broadcaster Sir David Frost had agreed to present before his death last month.
Sir David was "extremely excited" about presenting That Was The Year That Was, a recreation of his 1963 satirical TV show, the BBC said.
The three-part series on Radio 2 will now be presented by Lord Grade.
Guests including Ronnie Corbett and Barry Norman will join him on the show to pay tribute to Sir David.
The series will celebrate the "momentous" year of 1963, looking back at news stories that took place during Sir David's early career, such as the Profumo scandal and the assassination of President John F Kennedy.
'Fitting'
Bob Shennan, controller of Radio 2 said: "David Frost had agreed to present the recreation of his iconic programme just before his passing, and he was extremely excited about the project.
"It's fitting that Michael Grade is to front the programme as a tribute to his friend."
Along with guests Dame Joan Bakewell, Tony Blackburn and Petula Clarke, Lord Grade will discuss some of the key moments of 1963 including The Beatles achieving their first number one, the defection to the Soviet Union of spy Kim Philby and the beginning of Doctor Who.
A BBC spokesman said the show would look back at the events "in the company of people who were there at the centre, or whose lives were touched by them".
Other subjects discussed will be the opening of the National Theatre and the groundbreaking book, The Feminine Mystique, that sparked the Women's Lib movement.
Sir David died on 31 August aged 74 after suffering a heart attack while on board a cruise ship.
His career spanned journalism, comedy writing and daytime television, presenting The Frost Report.
That Was The Week That Was, also known as TW3, was watched by millions of viewers when it ran on BBC TV between 1962 and 1963, breaking new ground in comedy by poking fun at political figures and the elite establishment with scriptwriters including John Cleese, John Betjeman and Dennis Potter.
An American version of the show, also featuring Sir David, aired on the US channel NBC from 1964 to 1965.
That Was The Year That Was will be broadcast on BBC Radio 2 in November.