Novel ambition: Can a one-day course get you a book deal?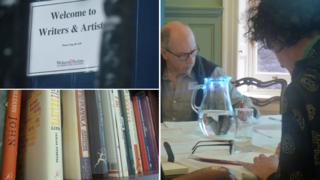 With the UK's publishing industry contributing an estimated £5bn a year to the economy, and the country possessing the world's fifth largest book market, it's no wonder that authors are seeking new ways of making their novels and products stand out.
But, despite the phenomenal rise in self-publishing, there are still many writers out there who hold on to the dream of finding a literary agent and a "traditional" outlet for their work.
That's why 26 strangers from around the world met up at Bloomsbury Publishing's grand offices in London last weekend, each paying £149 for a half-day "How to Hook a Literary Agent" event.
For this amount, the delegates were given the chance to meet four high-profile agents, take part in three workshops and spend 15 minutes "speed-dating" an agent to talk through their manuscript.
Although the sold-out event was the fourth such one run by the Writers' and Artists' Yearbook (owned by Bloomsbury Publishing). the thought of paying to meet agents is relatively new, and a subject of some controversy.
Diverse crowd
All the attendees were warned that, just because they were meeting agents and receiving feedback, there was no guarantee their payment would lead to anything more.
But the lure of meeting those in the know drew a diverse crowd, from 16-year-olds to retirees looking for a new challenge.
Jaya Martin, visiting from Malaysia, brought the first three chapters of her book for her chosen agent to go through.
"It was quite pricey and I did have to think twice about it," she said. "But I am serious about my writing and getting feedback about what I can do next to get it published."
Mother-of-one Helen Joy from Oxfordshire found she had reached a plateau when it came to getting the word out about her writing.
"I uploaded a copy of my book A Little Wishful Thinking up to Amazon and it had 1,300 downloads. But I don't have the time to market it and know what to do next. I've already started working on my next book and I want to try to get an agent.
"It's an aspiring writer's dream to have one. I've sent out so many letters to agents but no such luck yet. I'm not expecting to get an agent today - I just want to understand how to improve my pitching," she said.
Tailor submissions
The group was split in two and sent off to spend time in the workshops to find out what agents might want from them.
They were told to tailor their submissions to individual publishers, and primed for a long wait.
Even so, when they learned it could take two years from submission to seeing something on a bookshelf, some looked stunned.
On the other hand, when agent Juliet Pickering warned her group that aspiring novelists should expect to earn £5,000 a year, they shrugged their shoulders and continued pruning their pitches down to just one or two attention-grabbing sentences.
The participants were also told to avoid any agents who charged them a specific reading fee.
For Adrian Rusbridge, a retired head teacher from east Sussex, the workshops confirmed a lot of information he already knew - but the opportunity to meet agents one-on-one was a strong draw.
Agent James Wills said the chance to meet new talent and show people what to expect were the main reasons he agreed to take part.
But some are concerned these events are bad news for the industry.
Liz Thomson, editor of BookBrunch, said publishing companies were treating "hapless writers" as "cash cows".
"It's effectively a monetising of the slush pile," she said, referring to the unsolicited books sent in to publishers. "You are dealing with hopes and aspirations."
She added that publishers had become increasingly savvy about what she calls "creative accounting", as they attempt to find new sources of income.
Kerry Wilkinson, an author who became an Amazon best-seller after self-publishing his debut, said that he would never have paid to meet an agent - and he saw such events as the equivalent of paying to skip a waiting list.
"I don't necessarily think this is a bad thing - but it depends on the expectations of those involved. If they are paying £150 thinking it's a ticket to being published, they are likely to be disappointed," he said.
Yet Eela Devani, from the Yearbook, said the service had been created to fill a demand from people wanting in some way to demystify the process of publishing and to provide them with support "at prices they could afford".
Pickering said agents did not make a decision on the basis of a 15-minute two-line pitch and would always want to read a writer's work before embarking on any business relationship.
After her intimate speed-date session with agent Jenny Savill, Helen Joy said she felt the event had been worth the money.
"I was a little bit nervous as it was such a short period of time, but it wasn't like the X Factor at all," she said.
"I didn't know anyone in publishing before I came to this but now I have a personal contact. It's given me more confidence, so of course I see this as a worthwhile investment."