Much Ado About Nothing disappoints critics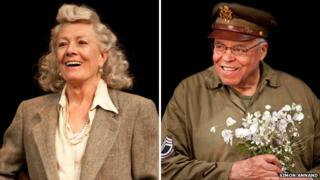 A much-anticipated production of Much Ado About Nothing, starring Vanessa Redgrave and James Earl Jones, has left most critics unimpressed.
The Guardian's Michel Billington described the play, directed by Mark Rylance, as "one of the most senseless Shakespearean productions I have seen in a long time".
Redgrave, 76, and Jones, 82, play reluctant lovers Beatrice and Benedick.
The play runs at The Old Vic in London until 30 November.
Rylance has moved the play's setting to England in 1944, around a country house and village near an American airfield.
He suggested casting Redgrave and Jones in Shakespeare's comedy after seeing them co-star in Driving Miss Daisy in the West End in 2011.
"Rylance's idea of showing a group of American troops billeted in rural England in 1944 does nothing to explain the casting," Billington said in his one-star review.
"You can't help wondering why Earl Jones's Benedick is a boon companion to the youthful Claudio or why Redgrave's Beatrice, however youthful in spirit, appears to be older than her uncle."
He concluded: "The ultimate impression is of a weird evening in which two great actors are left struggling to find their characters, and sometimes even their lines, and in which the great and noble cause of age-blind casting suffers a decisive setback."
While Much Ado got four stars from Libby Purves in The Times, most critics rated the play one or two stars.
The Telegraph's Charles Spencer described the production as "laborious and misguided".
"I greatly admire both these actors, but having such elderly thesps playing these characters sometimes seems cruel and unusual punishment for both them and the audience."
He said Jones's delivery was "so slow and hesitant" he worried he would not get to the end of his speeches. "His voice is wonderfully rich and resonant, and he has superb gravitas and a palpable humanity. But a persuasive, amusing Benedick he ain't."
Jones is perhaps best known for being the voice of Darth Vader in Star Wars and Mufasa in Disney's The Lion King.
"Vanessa Redgrave is much more fluent and often funny," Spencer continued, "though it still takes a bit of effort to accept a Beatrice who often seems like a mad old bat. And while the pair suggest a wry affection for each other, that's not quite enough to ignite the play."
The Arts Desk's Alexandra Coghlan noted that with a combined age of 158, the romantic leads in Much Ado About Nothing were taking the current trend for an older pair of lovers to the extreme.
She said the play's diction was a serious issue. "American accents thicken an already booming acoustic and it's a struggle to catch the details of this nimblest of verbal displays."
In The Express, Simon Edge described the production as a "car crash" and gave it one star.
"The fault is not that of the two harmless oldsters, who look on in a state of sleepy bewilderment at the disaster they're involved in. The blame lies mainly with the maniac at the wheel," he said.
"To add to the mess," he added, "designer Ultz has staged the whole thing under what looks like a giant table in the Japanese restaurant Wagamama."
"This production creaks," said the Daily Mail's Quentin Letts in his two star review.
Redgrave carried "great dignity" on stage, he said, but "her Beatrice's energy levels seem low and she never persuaded me she was really in love with Mr Earl Jones's Benedick.
"He, oh dear, is really not up to it. The prompter has a tense evening. Twice Mr Earl Jones is given an armchair from which to deliver his soliloquies."
However Letts praised Peter Wight, who plays policeman Dogberry and Friar Francis.
"The priest makes a speech about how loss can be the making of us. Delivered by Mr Wight with proper diction and perfect stillness, it drills into the theme of the play - the one night of real truth in an experimental but disappointing evening."