Emmy award winners to be revealed in Los Angeles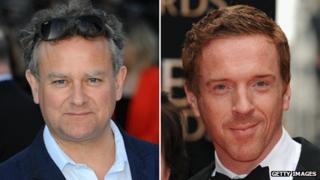 Television stars are attending the 65th Annual Primetime Emmy Awards in Los Angeles.
British actors including Damian Lewis and Dame Helen Mirren are in the race for top accolades.
Dame Helen is nominated in the lead actress in a mini series or movie category for her role as a leading lawyer in HBO drama Phil Spector.
Homeland star Lewis takes on fellow Brit Hugh Bonneville in the best lead actor in a drama category.
American Horror Story: Asylum has the most nominations with 17 nods.
Oscar winner Jessica Lange is in the running for her role in the horror tale.
Lewis and Bonneville face stiff competition in their category from Breaking Bad's Bryan Cranston, Kevin Spacey for House of Cards, Mad Men's Jon Hamm and Jeff Daniels for The Newsroom.
At a Bafta party ahead of the ceremony, Bonneville said he felt relaxed about his prospects.
"I don't think the pressure is on me, frankly. I feel slightly embarrassed to have been nominated alongside these amazing actors and much as I love the others, I hope it is Bryan Cranston's year because that show has been phenomenal and his performance has been extraordinary.
"He is a great actor, as are the others, but I think it's Breaking Bad's year."
Mad Men star Elisabeth Moss, who missed out on the best actress award to Homeland actress Claire Danes in 2012, received two nods.
Liberace biopic
Her performance as Peggy Olson in Mad Men was shortlisted in the leading actress in a drama category alongside Michelle Dockery for Downton Abbey, Nashville's Connie Britton, Kerry Washington in Scandal and Vera Farmiga in Bates Motel.
Moss was also recognised for her leading role in director Jane Campion's recent acclaimed drama Top Of The Lake, which scored eight nominations including outstanding mini series or movie.
House of Cards became the first programme only available online to receive a nomination for best drama series.
The Netflix political saga - a remake of the 1990 BBC series - earned nine nominations including lead actress for Robin Wright as well as Spacey's nomination.
Game of Thrones was recognised in 16 categories, while Liberace biopic Behind the Candelabra received 15 mentions.
Michael Douglas, who plays the flamboyant pianist, will go head-to-head with his on-screen partner Matt Damon to be named best lead actor in a mini series or movie.
It is the first major nomination for the HBO production which will not qualify for the US film awards season because it was made for television, although it was released in cinemas outside the US.
Sir Elton John will perform live at this year's Emmy Awards for the first time in the ceremony's 64-year history.
The musician will make his debut with a tribute to Liberace.
Douglas and Damon are up against Toby Jones for his portrayal of director Alfred Hitchcock in The Girl, Benedict Cumberbatch in Parade's End and Al Pacino.
Pacino has been recognised for his performance as Phil Spector in the HBO film named after the troubled music producer.
HBO, which received 108 nominations in total, is the most-nominated network for the 12th consecutive year.
Revived series Arrested Development, which was also produced by Netflix, had three nominations including lead actor in a comedy for Jason Bateman.
Downton Abbey received 12 nominations in total, including best drama series and supporting acting nods for Dame Maggie Smith and Jim Carter.
Reality host
The opening ceremony of the London 2012 Olympics was also nominated for four awards including outstanding special class programme - with Danny Boyle nominated for art direction.
Another BBC co-production, The Girl, which centres on Alfred Hitchcock and his relationship with actress Tippi Hedren, received four nominations.
As well as Jones's acting nod, Imelda Staunton was recognised for outstanding supporting actress for her role as Alma Hitchcock.
And British presenter Cat Deeley scored her third consecutive nomination for best reality host.
In the comedy category, the final season of long-running series 30 Rock scored the most nominations with 13, including best comedy.
Creator and star Tina Fey and co-star Alec Baldwin both picked up nominations in the leading comedy acting categories.
Last year's big winner, Modern Family, was shortlisted for 12 awards including best comedy series and acting nods for five of its stars.
Comedian Jimmy Kimmel, who hosted the Emmy award ceremony last year, will compete against Saturday Night Live for best variety series.
The ceremony will be held in Los Angeles on Sunday evening, hosted by Neil Patrick Harris.