Del Boy and Doctor Who top viewers' poll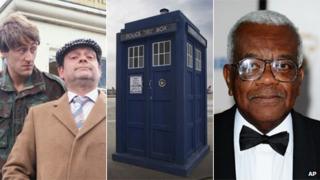 Del Boy, Sir Trevor McDonald and Doctor Who are the companions most TV viewers would like to spend an evening with.
The Radio Times conducted a poll to find people's "ultimate TV schedule" for its 90th birthday.
Almost 30,000 votes were cast - with Blue Peter chosen as the top children's programme and Morecambe and Wise as the best entertainment show.
Of the six winners, only Blue Peter and Doctor Who are still on the air, with both running for several decades.
The full schedule comprised the following programmes:
Children's: Blue Peter
Entertainment: The Morecambe & Wise Show
Comedy: Only Fools And Horses
Drama: Doctor Who
Documentary: Around the World in 80 Days
News: Sir Trevor McDonald
"It's a pretty good representation," said Boyd Hilton, TV critic from Heat Magazine. "They're all solid, hugely influential shows."
"Doctor Who is absolutely unique. It's an incredible achievement that it's lasted for 50 years and been entertaining families for that long."
However, Hilton said he wouldn't have chosen Blue Peter as the best children's show.
"I would have gone for Grange Hill, personally. It was a much bolder thing to commission for children - a drama that tackled lots of incredibly difficult issues."
'Very safe'
Kevin O'Sullivan, TV critic at The Daily Mirror, said it was a "fascinating insight into the tastes of Middle Britain".
"What I find interesting is that even people like me, writing for the masses, gather around what you might call cutting-edge programmes like The Inbetweeners instead of, say, My Family.
"And in a way our instincts are wrong in terms of what the public likes."
"These are all very conventional, very safe, and that is in no way to denigrate them. They're very well-produced, mainstream programmes - and there's your secret."
The poll saw former ITV newsreader Sir Trevor McDonald win almost as many votes as the next four most popular nominees combined,
Moira Stuart came second, followed by Kenneth Kendall, Reginald Bosanquet and Fiona Bruce.
In the drama category, Downton Abbey, Sherlock and Coronation Street all lost to Doctor Who, which turns 50 this year, and will soon welcome a new Doctor, in the guise of Peter Capaldi.
Michael Palin topped the documentary section with his 1989 series, Around The World In 80 Days, in which he tried to recreate Phileas Fogg's fictional jaunt around the world.
The programme beat Sir David Attenborough's Life On Earth into second place, while Walking With Dinosaurs came third.
Morecambe And Wise won the entertainment vote, followed by another comedy duo, The Two Ronnies, and thereafter Strictly Come Dancing, Top Gear and I'm A Celebrity...Get Me Out Of Here!
Surprisingly, there was no place in the list for The X Factor.
In the children's programme category, Blue Peter easily outranked Thunderbirds and Wallace and Gromit, earning 17% of the vote.
John Sullivan's Only Fools And Horses, which introduced Sir David Jason as wheeler-dealer Derek "Del Boy" Trotter, received double the number of votes of its nearest rival, Fawlty Towers.
Blackadder, Dad's Army and Father Ted rounded out the top five shows in the comedy category.
"Our poll captured the imagination of our readers," said Radio Times editor Ben Preston.
"Everyone had their say," he added, "but am I the only person wondering how Wallace and Gromit and Fawlty Towers didn't win a place in Radio Times Hall of Fame?"
O'Sullivan, meanwhile said the public's choices should send a message to the people who commission shows.
"If you're a TV producer or scheduler, you're always trying to be groovy - casting someone like Alex Zane instead of Bruce Forsyth," he said.
"But that won't get you many viewers. Brucie's where it's at."