Couples to have sex on Channel 4 show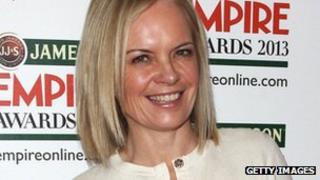 Channel 4 is to interview couples immediately after they have had sex on a TV show, it has announced.
The couples will be quizzed by Mariella Frostrup and a panel of experts moments after they emerge from a soundproofed box in the middle of the studio.
Channel 4 said no intercourse or nudity would be seen in the pre-recorded show.
The show is part of a new "real sex" season, which will also include a documentary examining the effect of pornography on British teenagers.
Sex Box, said Channel 4 commissioning editor David Glover, is "a rather mischievous, fun idea that actually allows sex to be completely private but the conversation to be truthful and immediate".
The three couples taking part are an engaged couple who were childhood sweethearts, a couple in their 20s and a gay couple in their 30s.
Relationship expert Tracey Cox will be among the panel speaking to the partners in the broadcast, on 7 October.
'Frank conversation'
Frostrup said: "The sex we see on screen, in magazines and increasingly online bears little relation to the real experiences of real people.
"I'm delighted to take part in this attempt to have a frank conversation about an essential element of all our lives."
The Campaign For Real Sex season is a response to "the explosion of online pornography", according to Channel 4's head of factual programming, Ralph Lee.
"Sex Box absolutely intends to be an open and adult conversation about sex," he continued. "Something we feel is currently being overlooked by mainstream programming."
The Campaign for Real Sex Season starts on 30 September at 22:00 BST with Porn on the Brain.