Alice Oswald becomes first poet to win Warwick Prize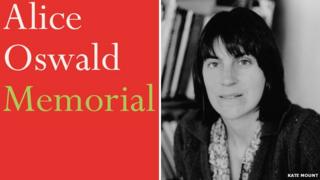 Alice Oswald has become the first poet to win the £25,000 Warwick Prize for Writing.
Her winning work, Memorial, is a reworking of Homer's Iliad.
"I'm very surprised and grateful, both to the judges and to Homer," Oswald said, when her win was announced on Tuesday night.
The Devon-based poet made headlines in 2011 when she withdrew Memorial from the TS Eliot prize citing concerns about its sponsorship.
The Warwick Prize, awarded every two years, is distinct from other literary prizes in that it is open to works of any genre, such as fiction, science, history and poetry.
Professor Ian Sansom, chair of the judges, said it had been a "unanimous decision" to award the prize to Memorial.
"This is a book that forges its own unique medium of expression. Memorial is a book that looks to the present as well as the past, which combines the personal with the political, and my fellow judges and I were thrilled by its imaginative and intellectual ambition," he said.
The book, published by Faber and Faber, received some ecstatic reviews. Giving it five stars, The Telegraph said: "Oswald has achieved a miraculous feat. She's exposed a skeleton, but found something magnificently eerie and rich."
Oswald's version strips back the narrative to focus on Homer's extended similes and the lives of the fallen foot soldiers.
Oswald told The Guardian in 2011: "I've always felt, with The Iliad, a real frustration that it's read wrong. That it's turned into this public school poem, which I don't think it is. That glamorising of war, and white-limbed, flowing-haired Greek heroes - it's become a cliched, British empire part of our culture."
Oswald won the TS Eliot Prize in 2002 for her second collection of poetry, Dart. But she withdrew from the prize in 2011 because she felt "uncomfortable" with it being sponsored by an investment company, Aurum Funds.
At the time, she said: "I think poetry should be questioning, not endorsing, such institutions."
This year's Warwick Prize shortlist included one poetry, three non-fiction and two fiction titles. The other books were:
Pathfinders: The Golden Age of Arabic Science by Jim Al-Khalili (Penguin) - non-fiction
Sufficient Grace by Amy Espeseth (Scribe) - fiction
Delusions of Gender by Cordelia Fine (Icon Books) - non-fiction
Suddenly, a Knock on the Door by Etgar Keret (Chatto & Windus) - fiction
The Old Ways by Robert Macfarlane (Hamish Hamilton) - non-fiction
Macfarlane, author of The Old Ways, is chair of this year's Man Booker Prize judges.
The Warwick Prize for Writing was founded in 2009 and is run by the University of Warwick. In addition to the £25,000 monetary prize, Oswald will have the opportunity to take up a short placement at the university.
Naomi Klein was the inaugural winner of the prize in 2009, for The Shock Doctrine. Peter Forbes won the prize in 2011 for Dazzled and Deceived.