Keeping Bob Marley's Legend alive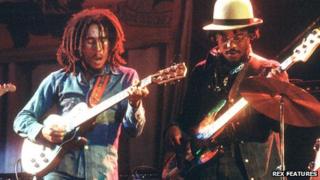 More than 30 years after Bob Marley's death, the reggae icon's music is as potent as ever and his bassist Aston "Family Man" Barrett is now taking The Wailers on the road to play Marley's classic compilation album Legend live.
This week, Bob Marley's album Legend is at number 55 in the UK chart and number 131 in the US.
That may sound pretty unremarkable. But given the thousands of albums that have come and gone since Legend's release 29 years ago, to still be near the charts at all is impressive.
It is proof that Legend is one of the very few albums in the history of music to have remained consistently popular.
Global sales are estimated at anywhere between 25 million to 40 million, and it has spent longer on the US charts than any album except Pink Floyd's The Dark Side of the Moon.
And Marley himself, who died in 1981 aged 36, has stayed frozen in the world's cultural consciousness as a musical genius and a messenger of peace and unity.
One of his foot soldiers in this mortal world is his former bassist Aston "Family Man" Barrett, now the only member of the current incarnation of Marley's band The Wailers to have played with the singer.
He leads the band with the aim, he says, of "keeping the spirit of Bob Marley alive through the reggae music".
Barrett has a deliciously deep, mellow voice, a treacly Jamaican drawl that oozes warmth and humour.
He is so laid-back and his accent so strong that it is a challenge to follow his flow, his words often seeming to blur together.
Asked why Marley's music has stood the test of time, he replies that a lot of people are making music with new technology, but they are mostly rehashing what has gone before.
"What is there is what has already been created by the originators," he says. "And then here comes the imitators." He lets out a throaty chuckle.
Barrett is clear when he says he never gets bored with playing classic tracks like Stir It Up or Redemption Song. "Music is life, you know? It's also like a gym," he says. "It keeps you happy. It's exercise."
The Wailers have remained active since Marley's death, albeit with numerous line-up changes and various singers filling Marley's shoes.
The current frontman is Duane "Danglin'" Anglin, who has been on the road with the group since 2010.
The power of the music lies in its message, he believes. "It was relevant then and it's relevant now and I'm sure it will be relevant in the future.
"One Love and Get Up, Stand Up and Slave Driver - those songs are very relevant songs for anyone who's suffering or has ever been dealt any kind of injustice or inequality.
"It's because of that positive message that it's timeless music. People will always be able to relate to it."
Wherever they go around the world, Anglin says he sees fans of all ages, creeds and cultures looking back at him, usually singing along at the tops of their voices, even if they do not speak English.
"That's one of the things that resonates with me," he says. "Knowing that, even though they don't speak the language... they can sing the words and understand the emotions.
"This music cuts deep. Family Man always says that reggae music is the heartbeat of the people, so we keep the heartbeat pumping so people can stay alive."
In taking Marley's place, Anglin is always likely to suffer when fans compare the two. But he says that is not a problem.
"The crowd understands that there's no replacing or duplicating or replicating Bob Marley," he says. "I can simply just try to carry on the legacy and carry on the tradition through performances."
The last time Aston "Family Man" Barrett was in the headlines, it was when he lost a High Court battle for £60m in unpaid royalties in 2006.
He claimed he was instrumental in creating the band's sound and their success. But a judge bemoaned his "hazy" recollection of events and unreliable testimony.
How is his relationship with the Marley family now?
He replies that: "Everything is pause, like it's never happen. It's like secret service, secret society." Another chuckle. "It's gone away like it never occur."
He adds: "In business you do not get what you deserve - only what you negotiate."
'Only 41 children'
Apart from his musical achievements, one fact that is always mentioned in stories about Barrett is that he has 52 children. Is that really true?
"Ah, it's only 23 daughters and 18 sons," he replies. "It's 41. In the court battle, they do that to me, say I've got 52. I am the family man. I'm gifted with 41.
"And 23 grandchildren. And two great-grand." He then veers back to the subject of royalties and recognition. "I deserve from the revenue for my input over the years.
"I just keep playing the music, keep making the music. I am the one who is the architect of reggae."
The Wailers' Legend Tour starts in Glasgow on 26 October before visiting Newcastle, Manchester, Sheffield, London and Oxford.