Star Wars named UK's top movie theme in BBC vote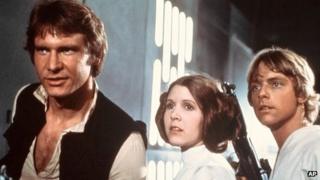 John Williams' Star Wars theme has been voted the UK's favourite film soundtrack in a new BBC vote
Star Wars took almost a quarter of the vote, with Ennio Morricone's The Good, The Bad and the Ugly coming in second.
Leonard Bernstein's West Side Story was third in the Sound of Cinema vote.
Voters chose from a shortlist of 20 compiled by film fans and experts from across the BBC. Later, the BBC Concert Orchestra will play the 20 soundtracks live on BBC Radio 3.
It will be conducted by Robert Ziegler at the Air Studios in London.
Those who compiled the top 20 included Radio 2's Simon Mayo, Radio 3's Matthew Sweet and Tommy Sandhu from Asian Network. Ziegler also contributed.
Star Wars return
Williams will talk about writing the theme from the 1977 film on Composer of the Week next week.
The Star Wars theme won him the most awards of his career, including an Oscar, a Golden Globe and a Bafta.
The theme was also named best instrumental composition, best original score and best pop instrumental performance at the Grammys.
In July, it was announced that Williams would return to score the new Star Wars film, Episode VII.
He said he was "happy to be continuing to be part of the whole fun" of the franchise.
The theme of David Lean's epic Lawrence of Arabia crept into the top four with Bernard Hermann's music for Alfred Hitchcock's Vertigo rounding off the top five.
Hans Zimmer's music for the Batman film The Dark Knight Rises made it into the top 10 ahead of the hit musical Grease.
But another of Hermann's Hitchcock collaborations, for the movie Psycho missed out, coming in at number 11.
The music to Quentin Tarantino's Oscar-winning Django Unchained finished a place behind at number 12.
The full list can be seen at the BBC's Sound of Cinema website.