John McCririck's ageism tribunal gets under way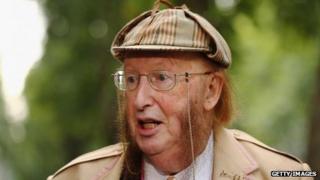 Racing pundit John McCririck has taken his former employers Channel 4 and IMG Media Ltd to an employment tribunal, accusing them of age discrimination.
The 73-year-old was axed from Channel 4's coverage last year, as a new-look team led by Clare Balding took over.
McCririck called ageism "wrong" and "illegal" outside the tribunal, which was adjourned so the panel could study evidence.
Channel 4 said it was "vigorously defending" the case.
The long-time pundit said he was "devastated at being sacked" in October 2012, adding that "there's nobody better around".
He later announced plans to sue his former employers for £3 million for loss of future earnings, "stress and mental anguish".
He lost his job when Channel 4 unveiled a new presenting team led by Claire Balding.
McCririck told BBC News at the Central London Employment Tribunal on Monday: "The Equality Act in 2010 said you cannot sack somebody because of their age, and there are hundreds of thousands of people in this country, in their 30s to their 70s, who dread, who fear the threat of the sack just because someone younger is chosen by one of the suits and skirts."
He continued: "That is wrong, that is illegal, and that is who I'm fighting on behalf of."
Channel 4 said it was "grateful" to McCririck for his contribution over the years.
A spokesperson for the broadcaster added: "However we reject the suggestion that discrimination on the basis of age played any part in the decision not to include John in the Channel 4 Racing team from 2013 and we are vigorously defending this claim."
Famous for his deerstalker hat and sideburns, McCririck was given the go-ahead to take his case to a final hearing after a pre-hearing review in June.
The pundit said the prospect of the tribunal was a "daunting ordeal", but added: "I'm not in this for the money. All I want is my job back, it's all I have ever asked for."
Accompanied by his wife Jenny, McCririck said the sexism he had been accused of in the past was "a pantomime villain thing that Channel 4 encouraged".
Sharon Osborne once threw him off her chat show, after he called her "dumb". He was also ejected from an episode of Loose Women after insulting the entire panel and being booed by the audience.
"Channel 4 never, ever said: 'Look, we don't like your sexist thing,'" he said.
McCririck has also appeared in reality TV programmes including Big Brother.
The hearing, which is expected to last seven days, will resume at 10:00 BST on Tuesday 1 October.